If you dig around enough in the street level view of our world available on online maps, then you'll soon find a few hidden treasures. Whether that's beautiful places you can explore from the comfort of your own home or hilarious happenings from the other side of the planet.
Captured by travelling cameras passing down our roads, tourists with their smartphone or professional photography companies working their magic, these images show sights from around the globe you've probably never seen before.
We've collected some of the most interesting we've found, from underwater snaps near the Great Barrier Reef to a bear casually fishing in a river and beyond. Keep with us to be amazed by what you see.
Landlocked diver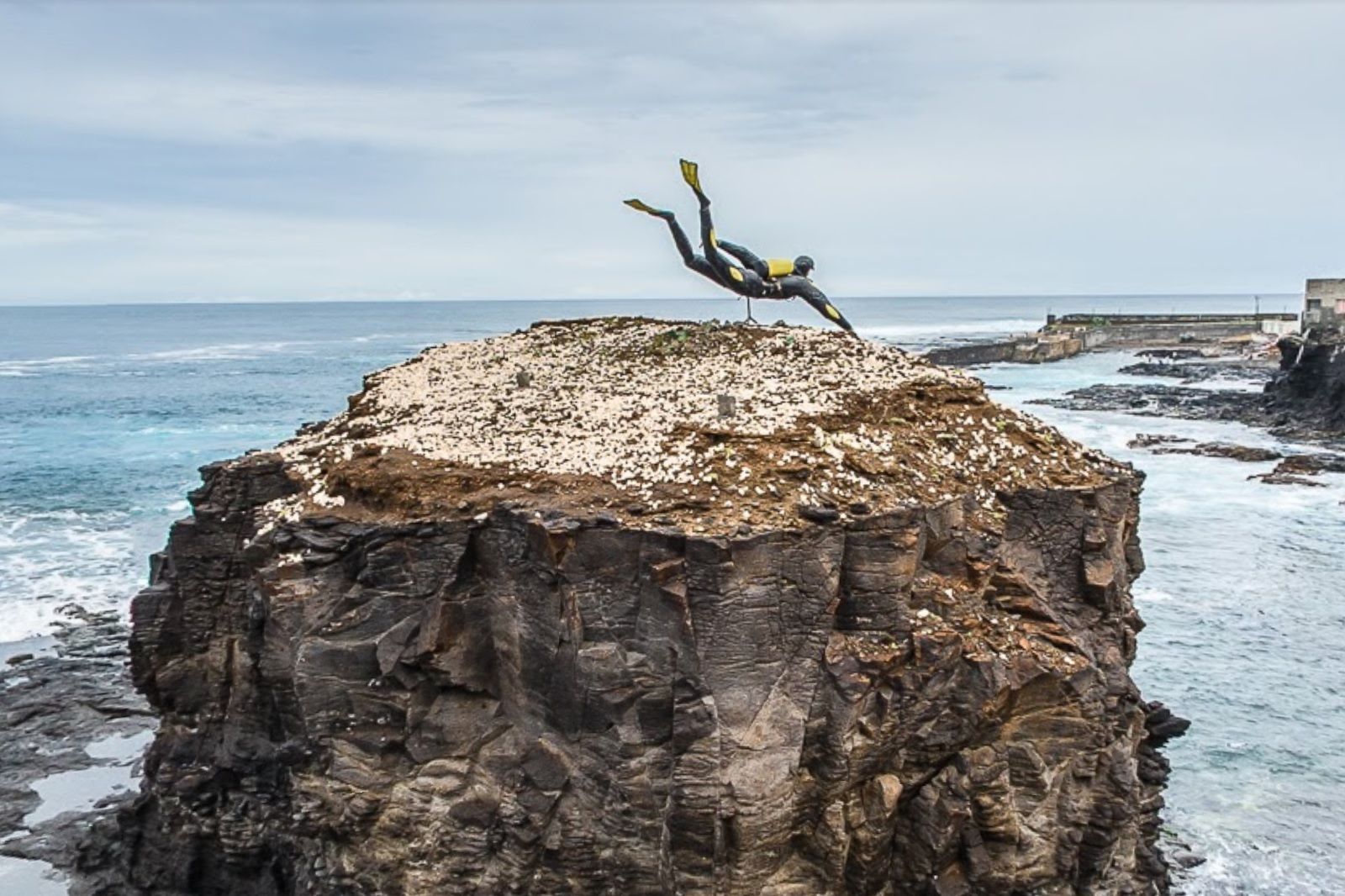 On a small piece of land worn away by the wash of the sea sits a diver apparently landlocked and constantly struggling to get back to the waters below.
A bear fishing for his lunch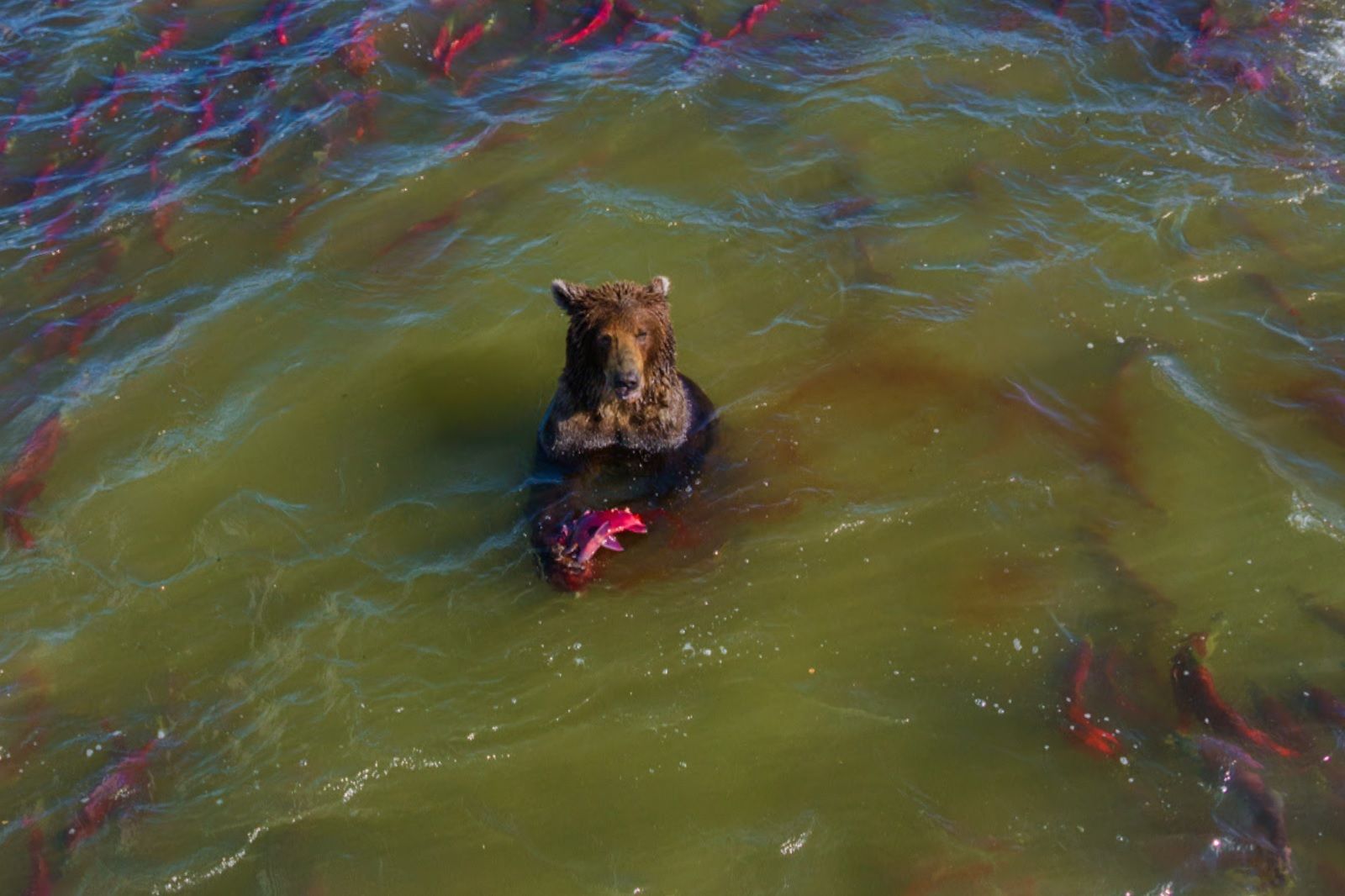 This brilliant aerial photograph shows a bear casually sitting in the river fishing for his lunch.
A mass of fish can be seen dashing out of his way in a desperate bid to escape being next. An impressive view from Kurile Lake, Kamchatka, Russia.
A Reindeer on the loose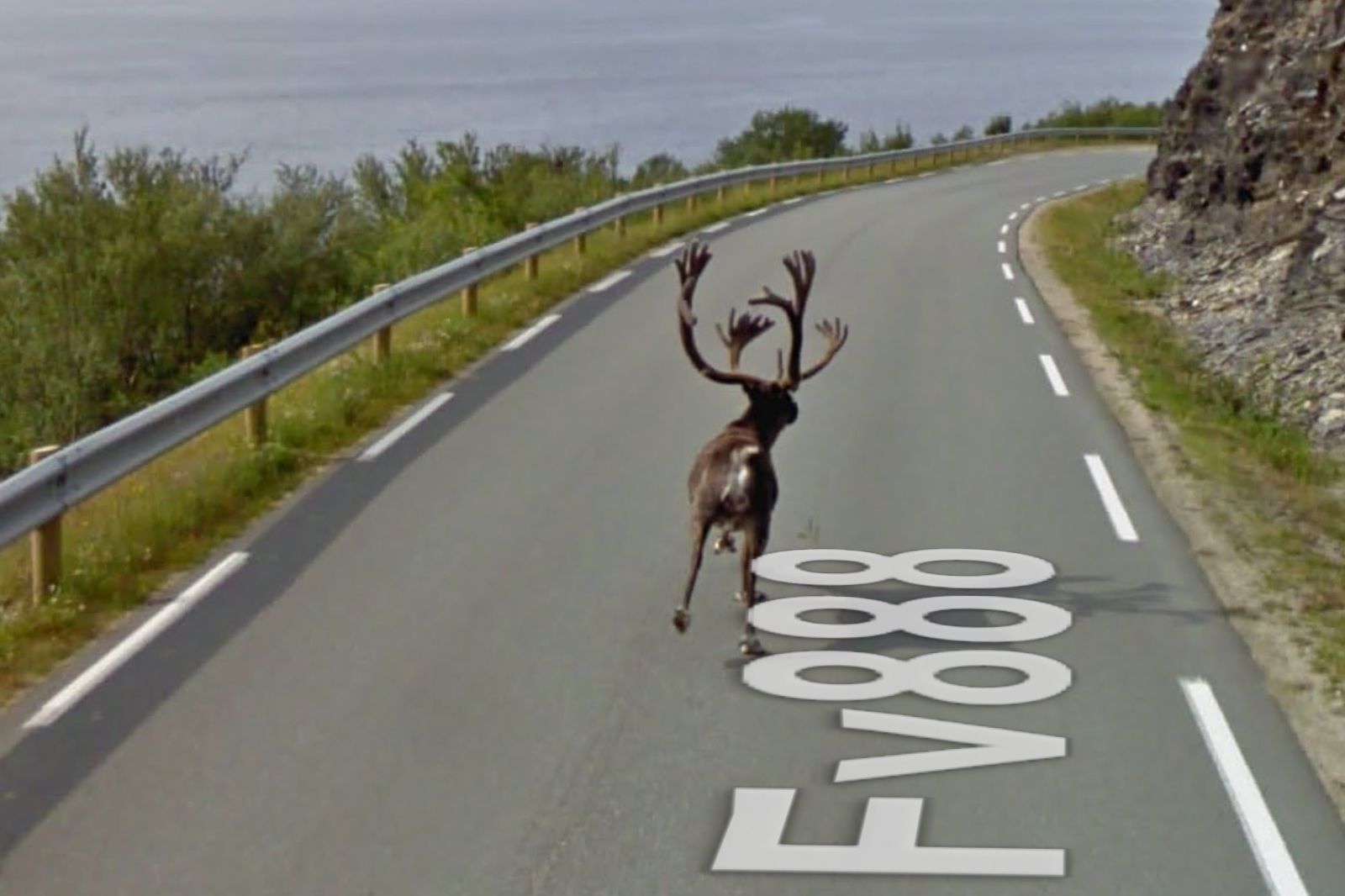 There's a reindeer on the loose in Finnmark, Norway. If you follow him, you can see the reindeer being chased down the road by the camera car before finally leaping the railings. A close escape for both of them!
Miss Piggy plane wreck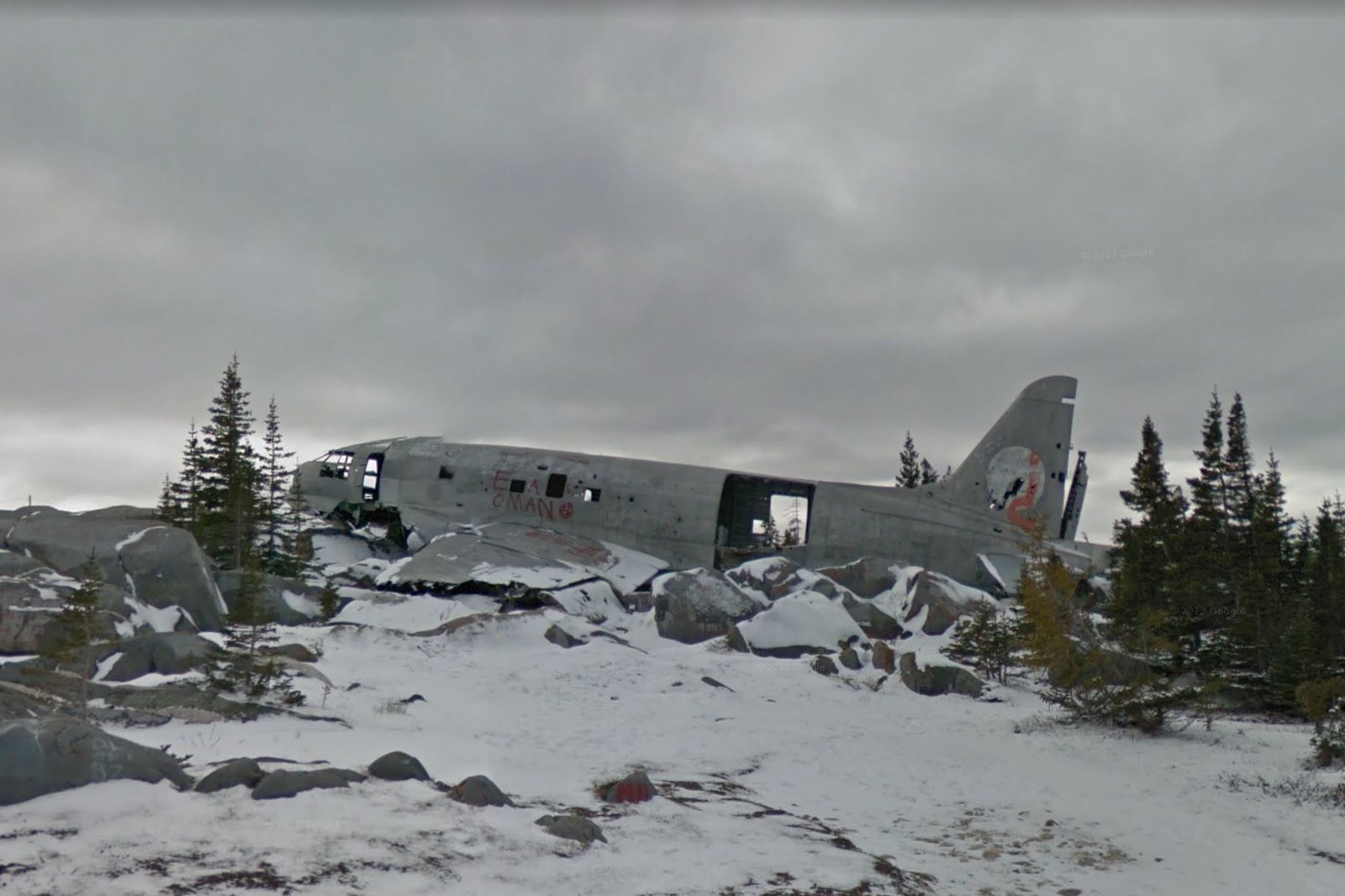 In 1976, an overloaded Curtiss C-46 Commando cargo aircraft crash-landed in rough terrain in the snowy hills of Canada. The plane was nicknamed "Miss Piggy" because of the size of the loads it carried at the time, the crash site now bears that name too.
McDonald's Island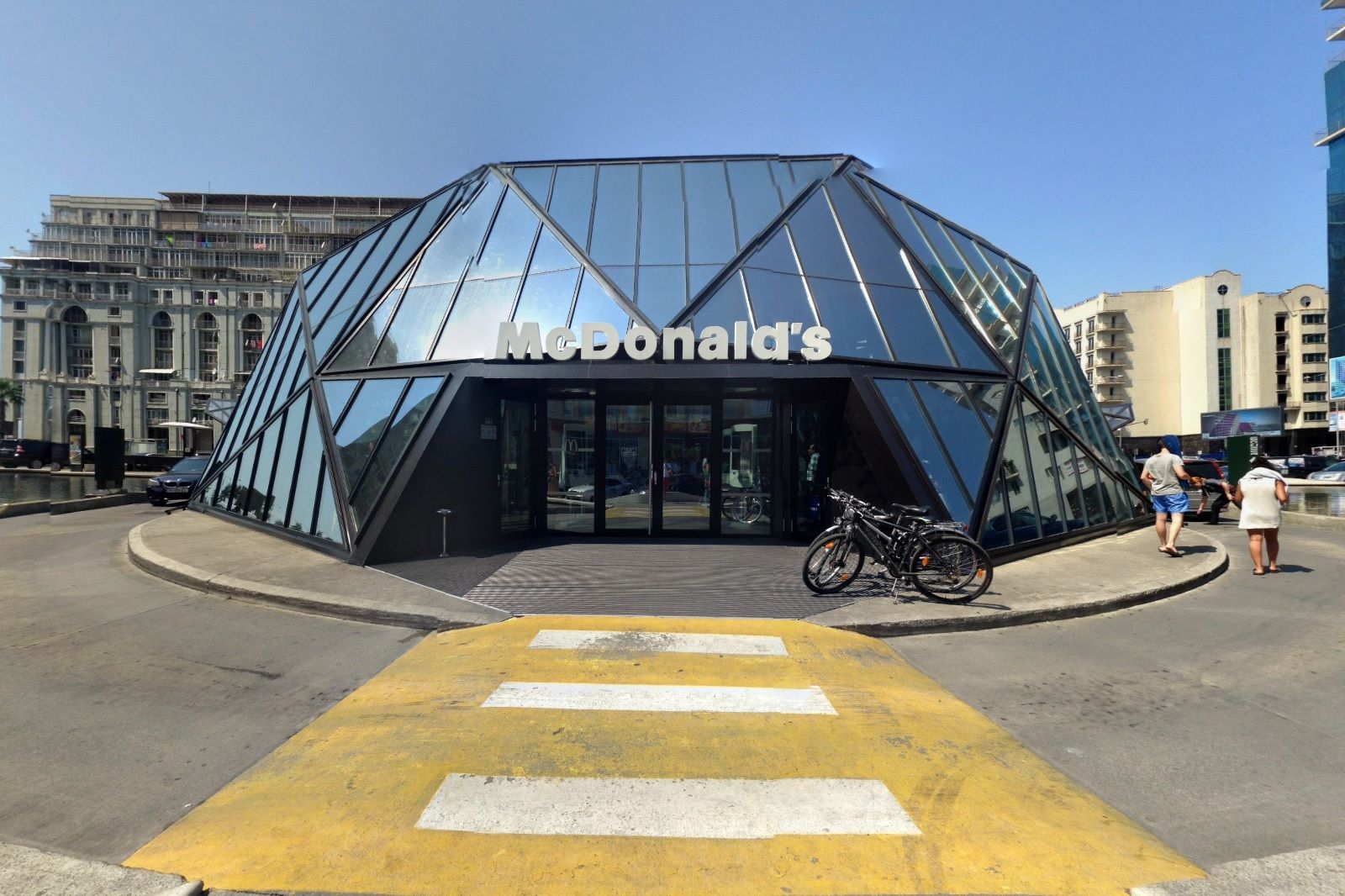 An unusual view from Georgia sees a McDonald's restaurant on a small man-made island at the edge of the city. The dome-shaped fast-food establishment isn't your usual storefront, but it's certainly inviting.
The pot hole scuba divers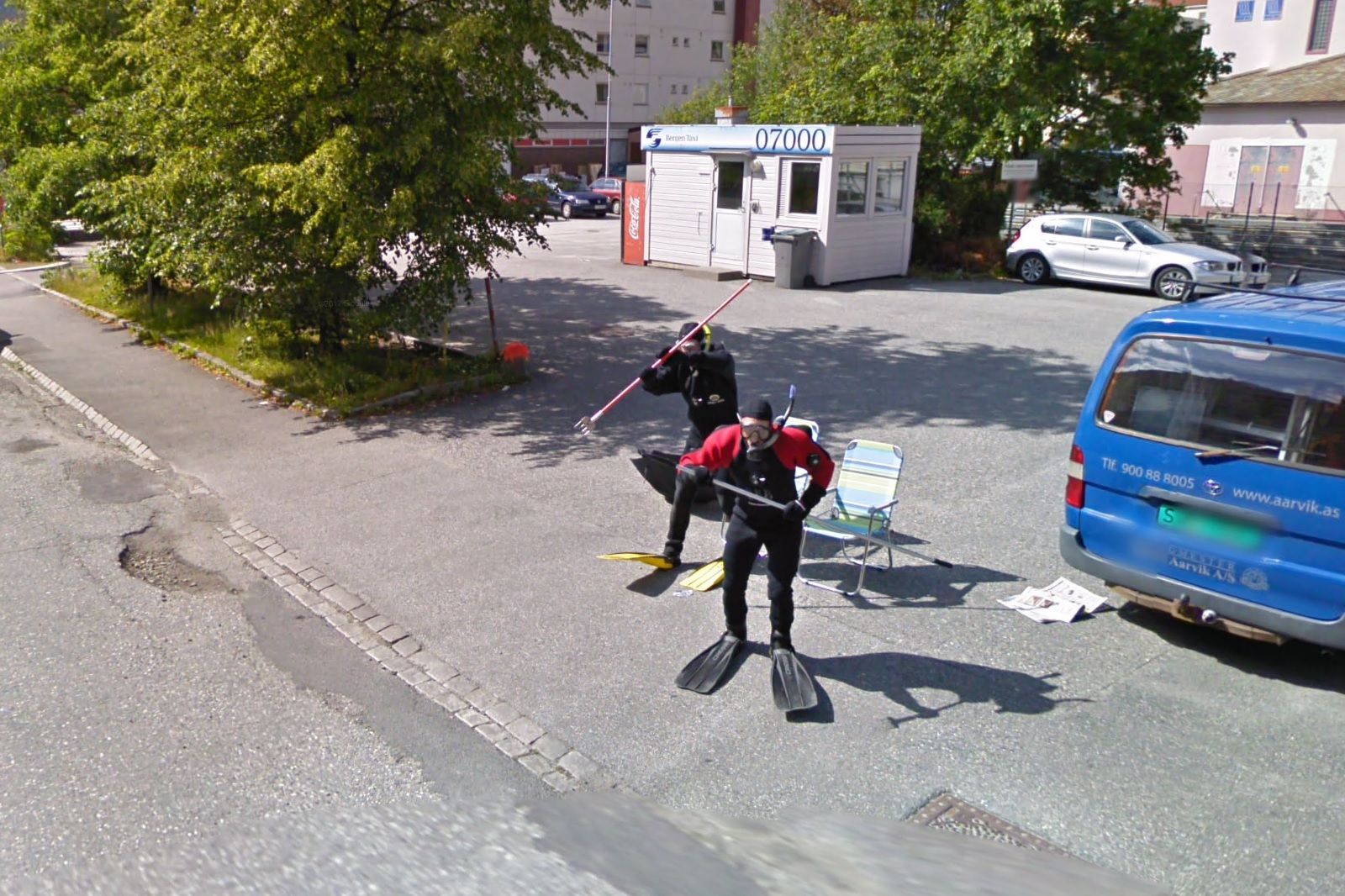 On the streets of Arstad, Norway, two men in full scuba gear can be seen enjoying the clement weather. Perhaps they're preparing for a flood?
Just a horse and his snacks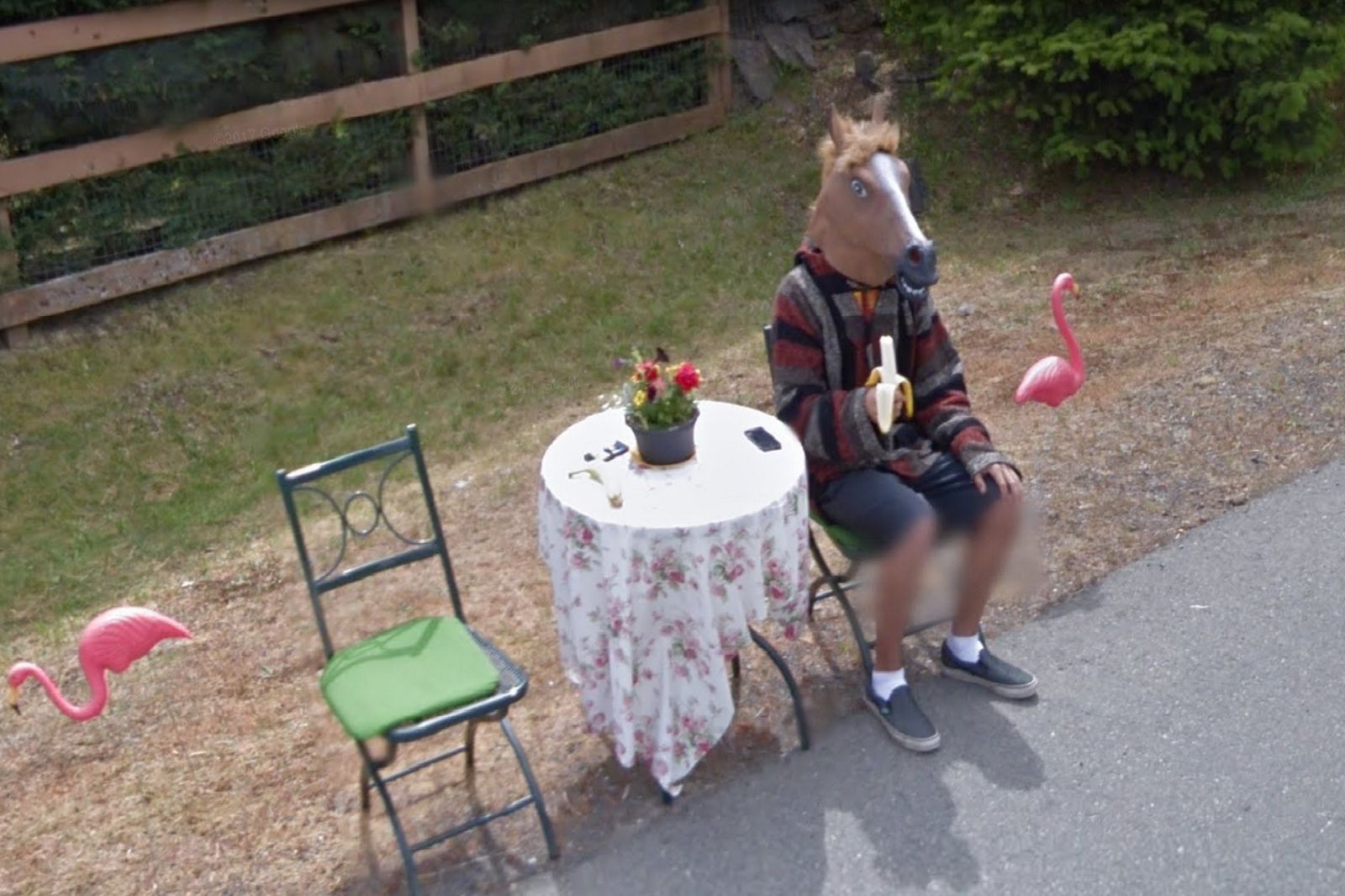 Nothing to see here. Just a horse enjoying a little roadside banana. All perfectly normal behaviour for Canadians we're sure.
A stig with a view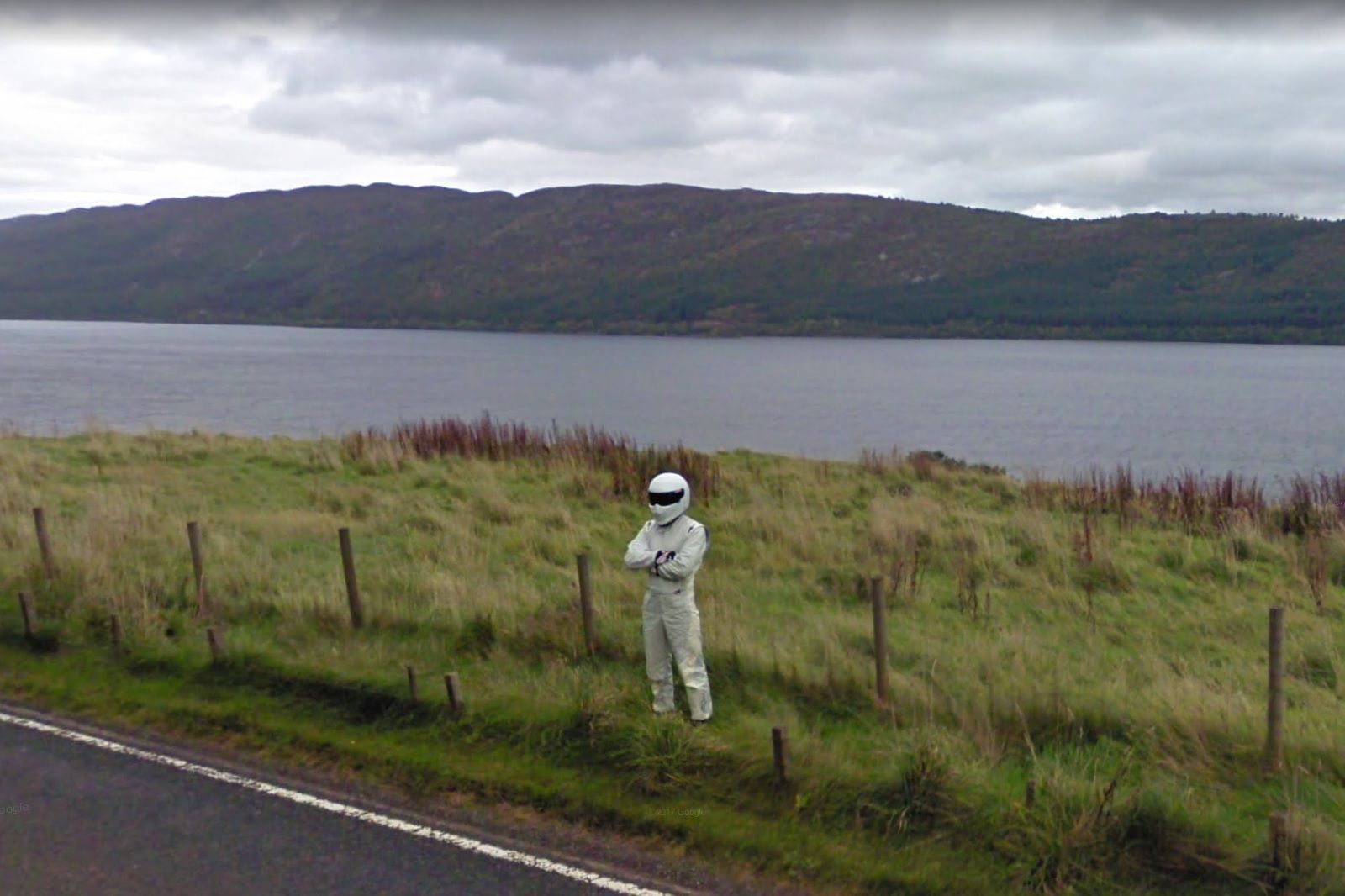 Of Top Gear fame, Stig is not only the tame racing driver but also a fan of a nice walk in the countryside it seems. This roadside view of him has been captured near Loch Ness in Scotland.
Street view car park invasion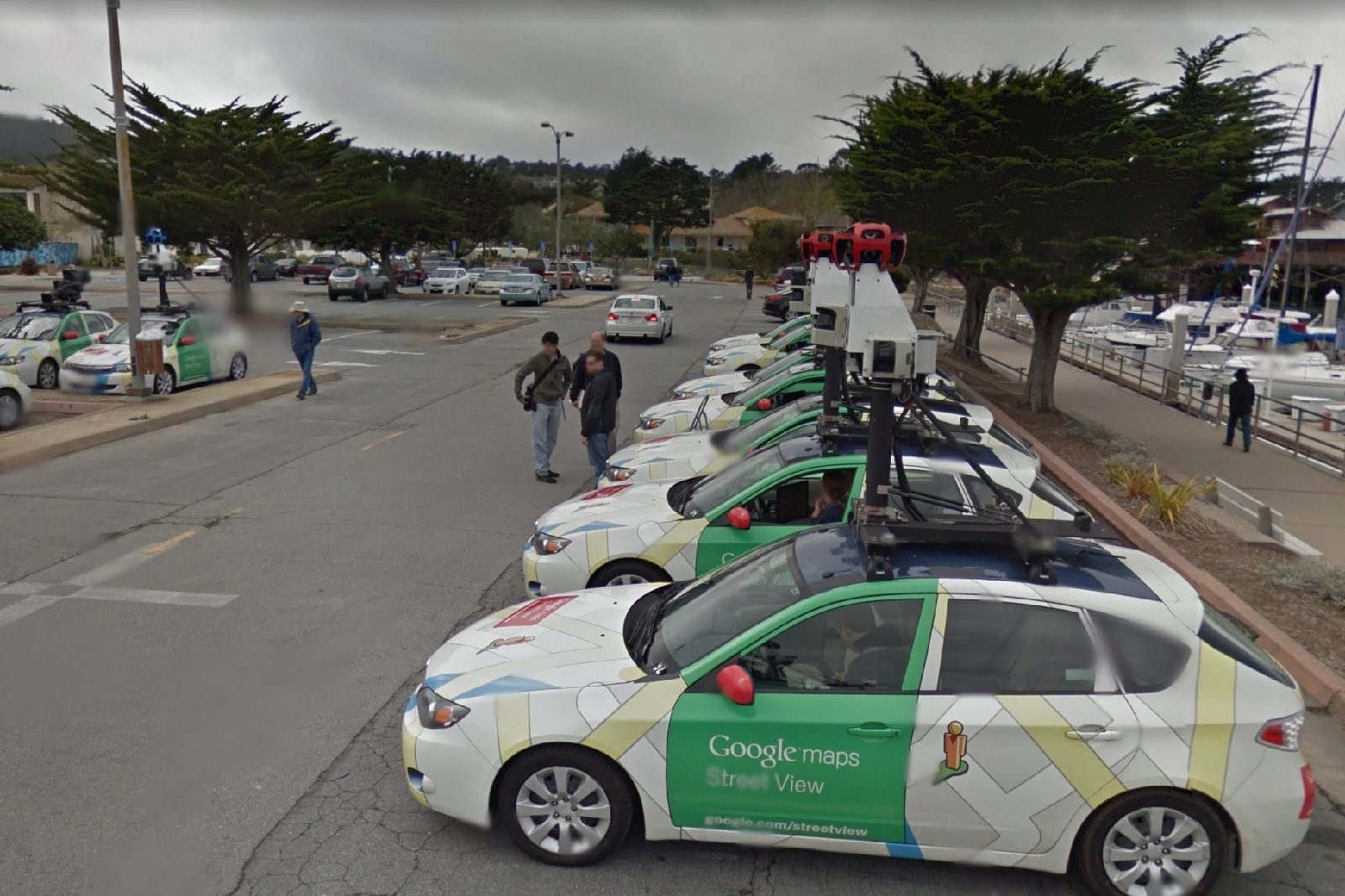 A car park in California can be seen packed full of Google cars and their drivers. Not your usual car meet, but certainly has an interesting and colourful view.
A secret base in the mountains?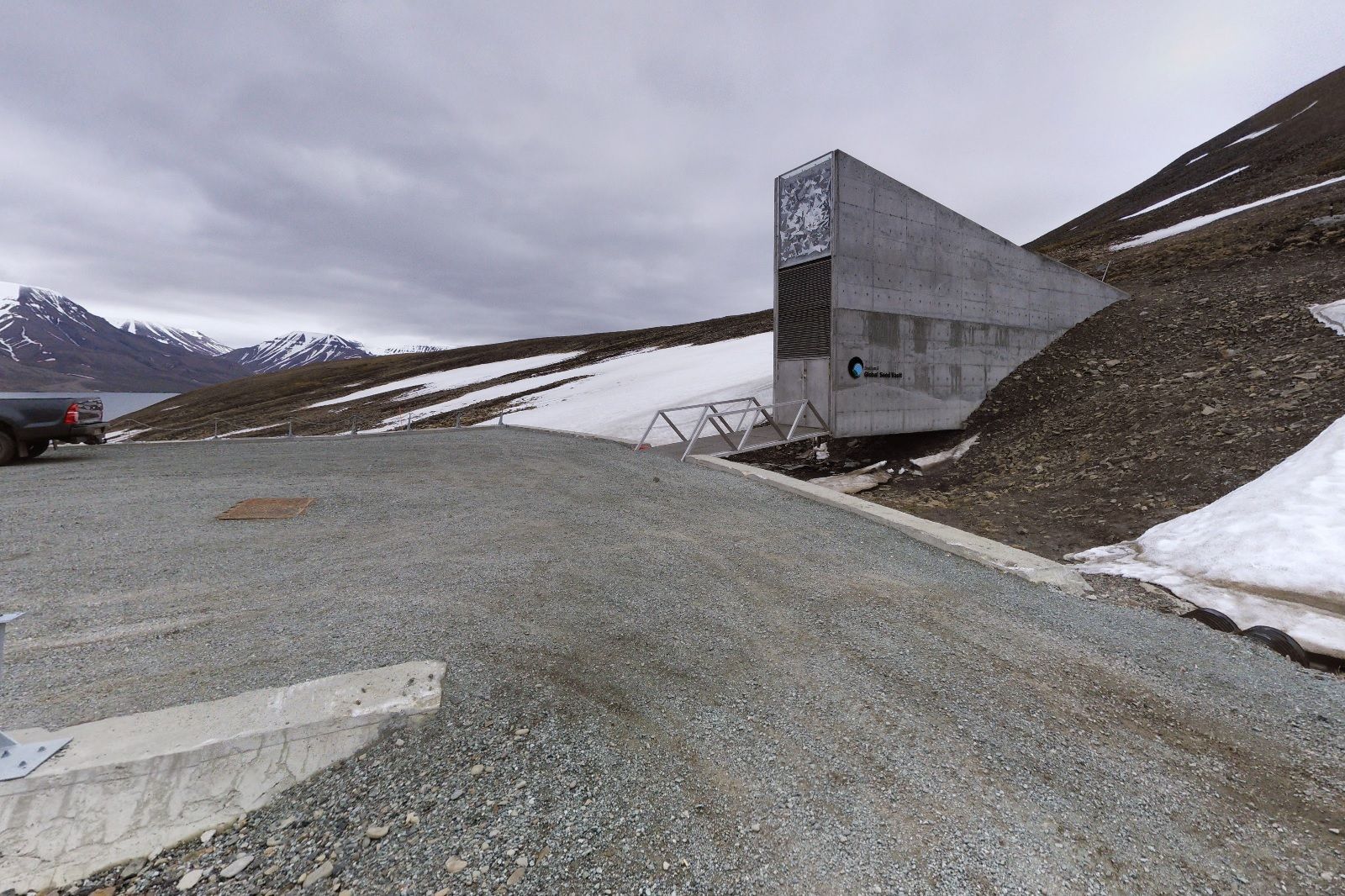 In the middle of nowhere in Svalbard, Norway, there's a view of what appears to be a secret underground installation in the mountainside. It's not that exciting in reality though but is instead the home of the Svalbard Global Seed Vault. The vault's aim is to preserve a wide variety of plant seeds to ensure they survive any sort of large-scale crop disaster.
The silent people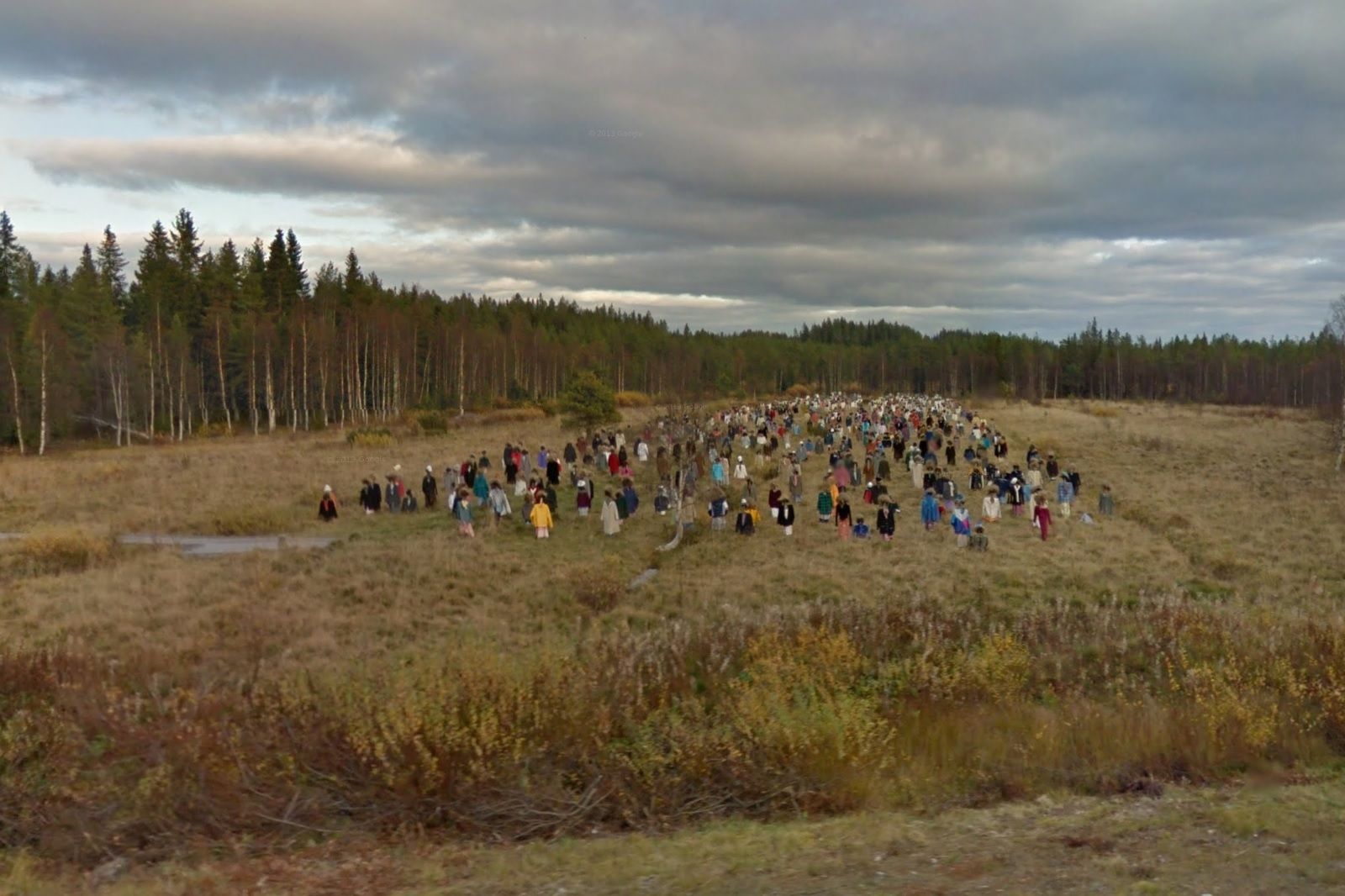 Alongside a road in a field in Finland sit 1,000 scarecrows known as "The Silent People" – a work of artist Reijo Kela. These scarecrows have actually been other places too, previously appearing in two different spots in Helsinki. The artist hasn't explained their meaning leaving it up to the viewer to enjoy.
A marching band on parade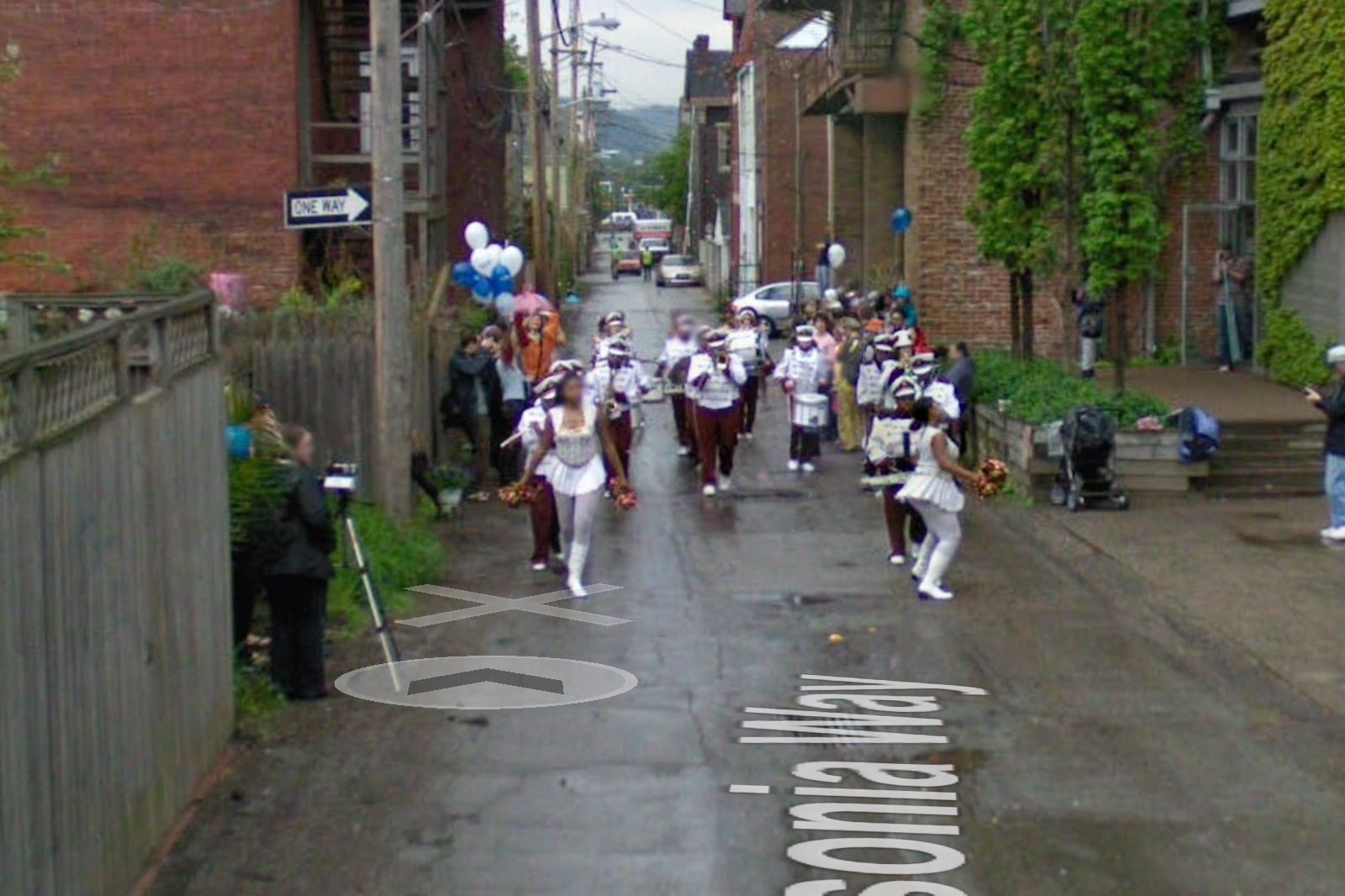 Pittsburgh, Pennsylvania has a view of a marching band making its way down the street, with onlookers peering on from nearby buildings.
Forgotten villagers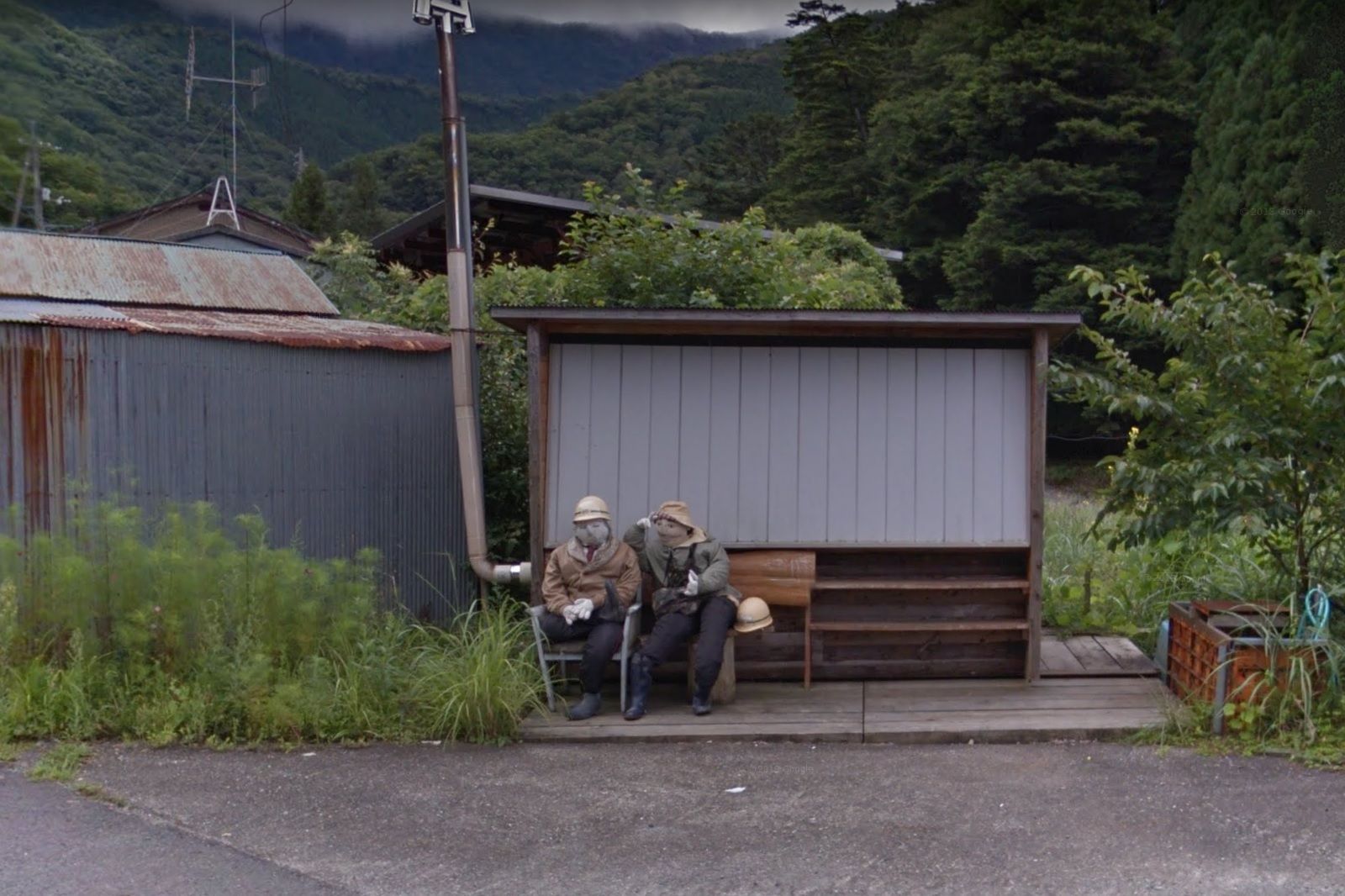 Visitors to the Tokushima Prefecture, Japan, can see a number of rag dolls created by Tsukimi Ayano.
These dolls are meant to symbolise and pay tribute to the people from the village who have either moved away or passed on. Here, a couple sits on a bench casually staring back at the viewer.
AT-AT walker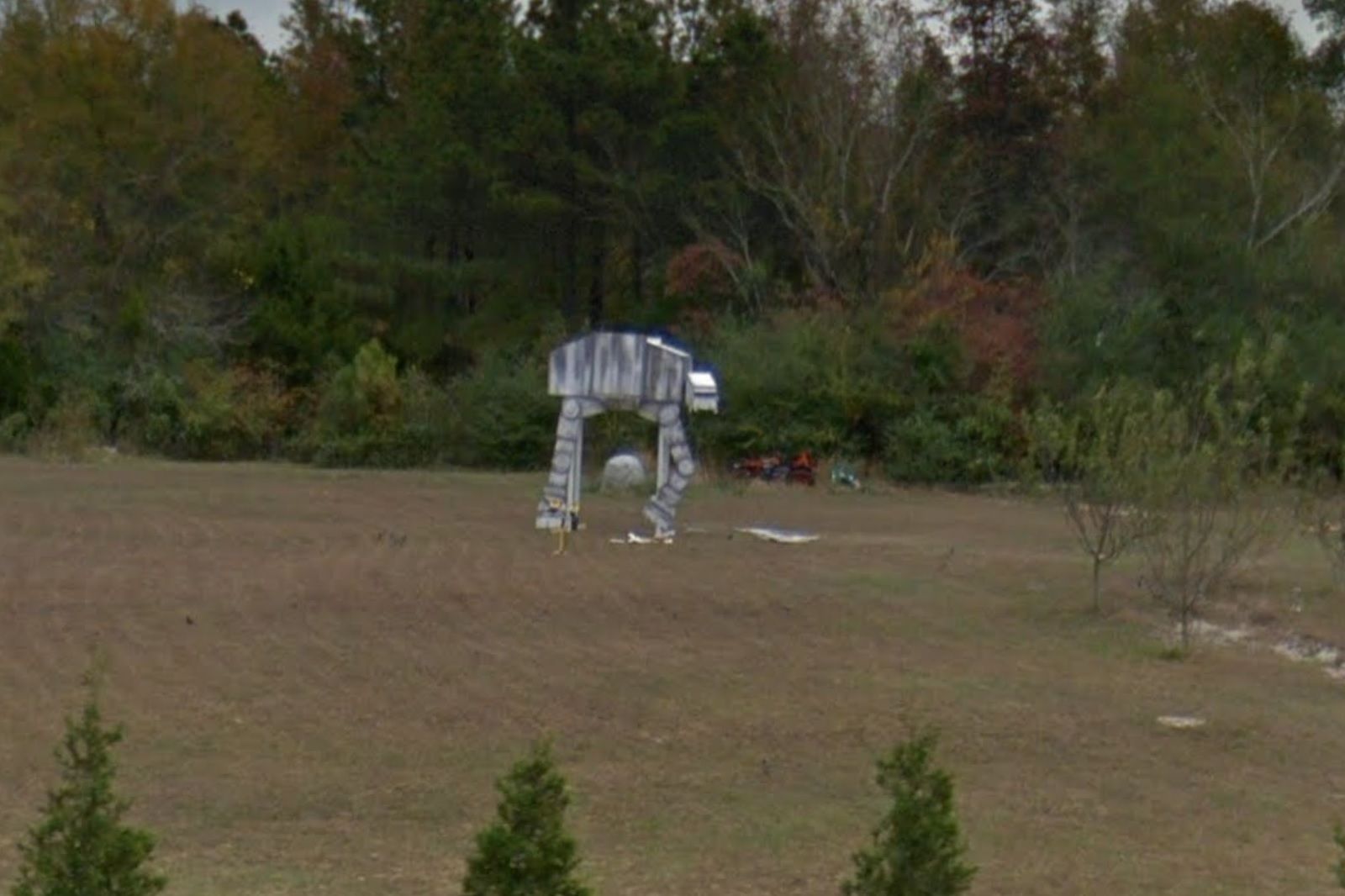 A massive Star Wars fan in North Carolina has built a large AT-AT walker in their back garden. People driving by can see it eyeing them up as they pass.
Prank wrapped car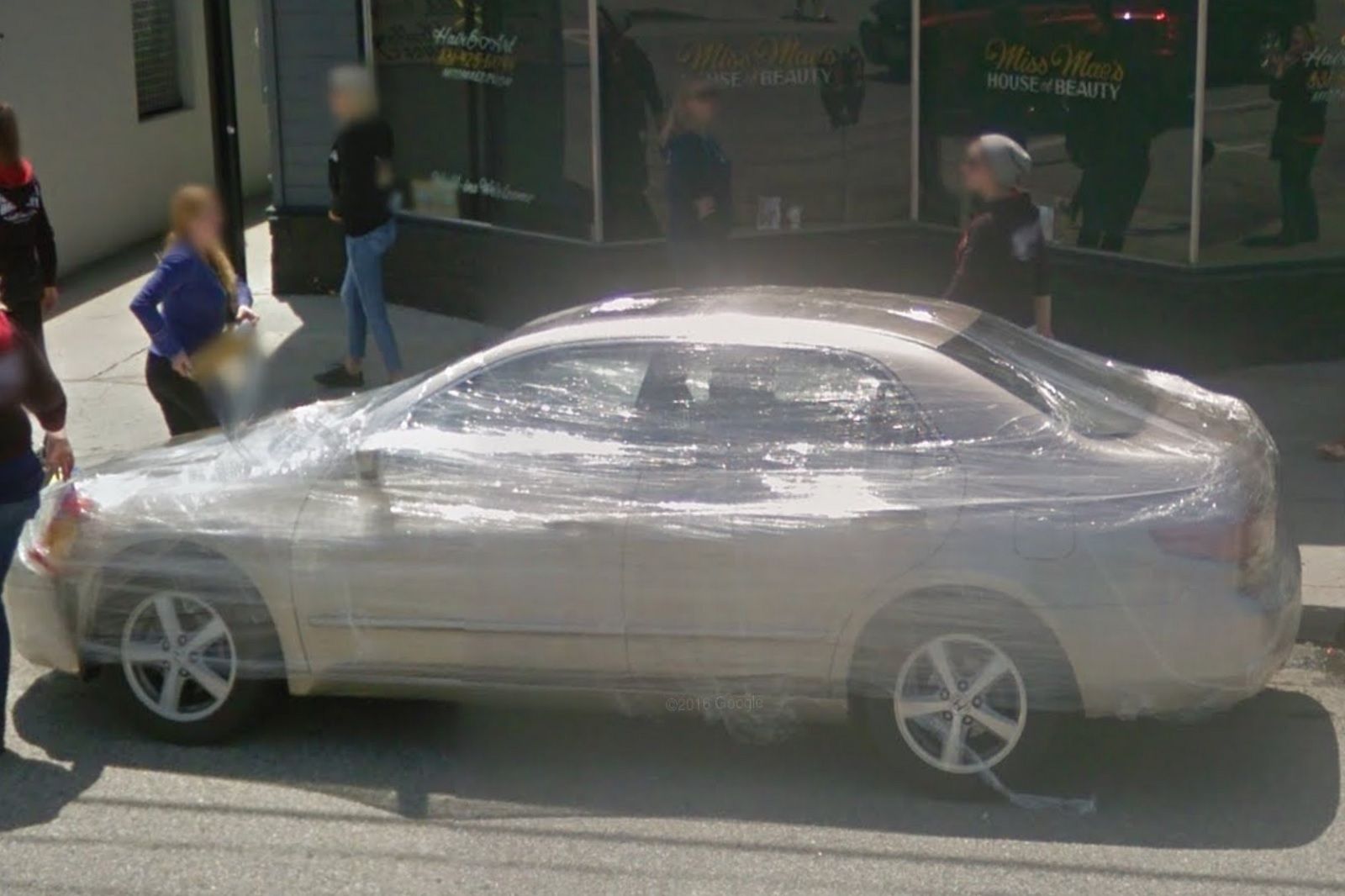 The work of pranksters has been captured for all to see thanks to a travelling camera car.
This car can be seen parked on the street of Santa Cruz, California.
Heroes at work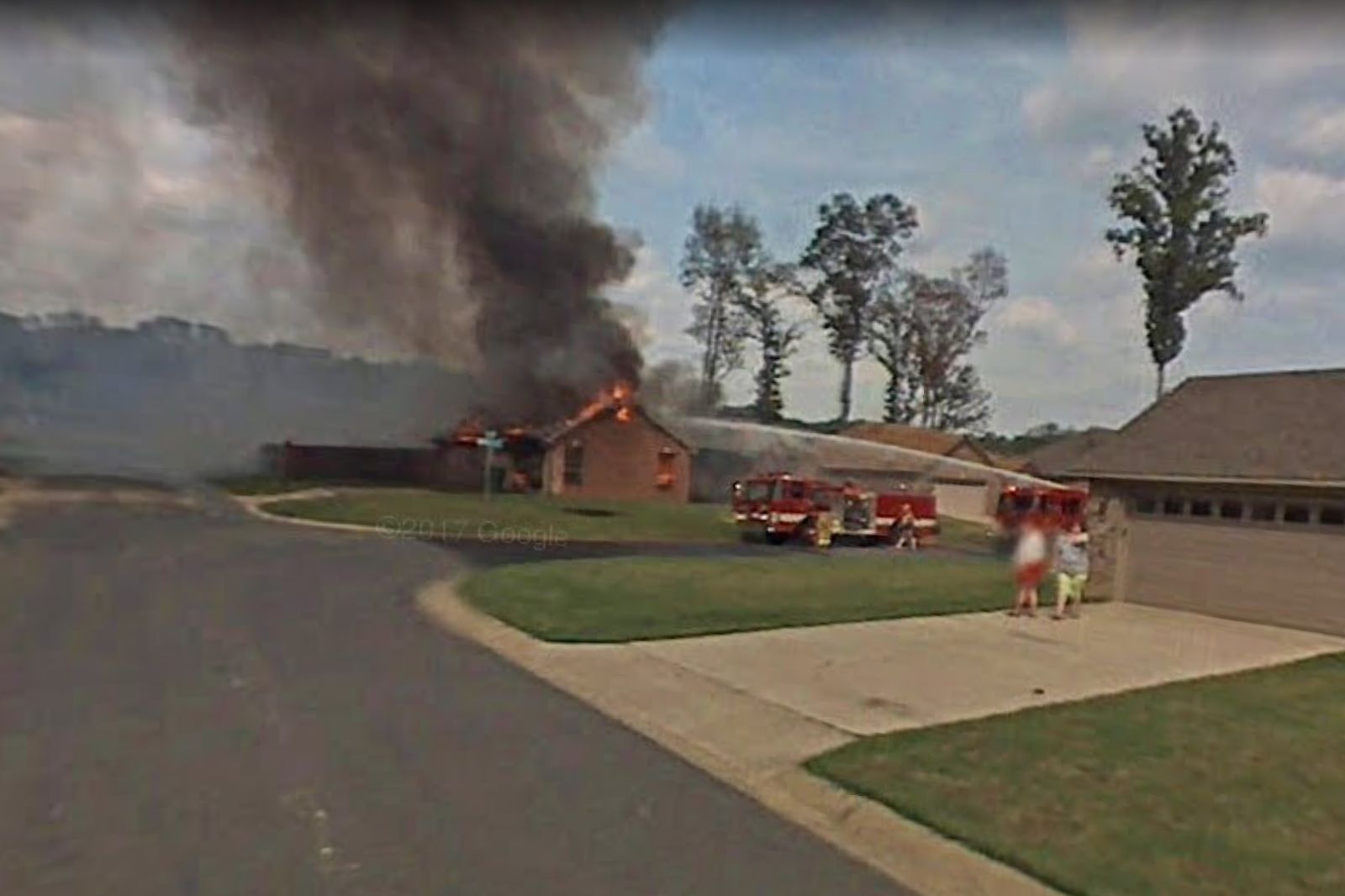 An unfortunate disaster has befallen this home just as the camera car turns up and captures the view. The firefighters can be seen working hard to fight the blaze and if you click the map to travel around the area you can see their massive hoses on the road and even fast-forward a few years to see a fully repaired house as if nothing ever happened.
Street view times two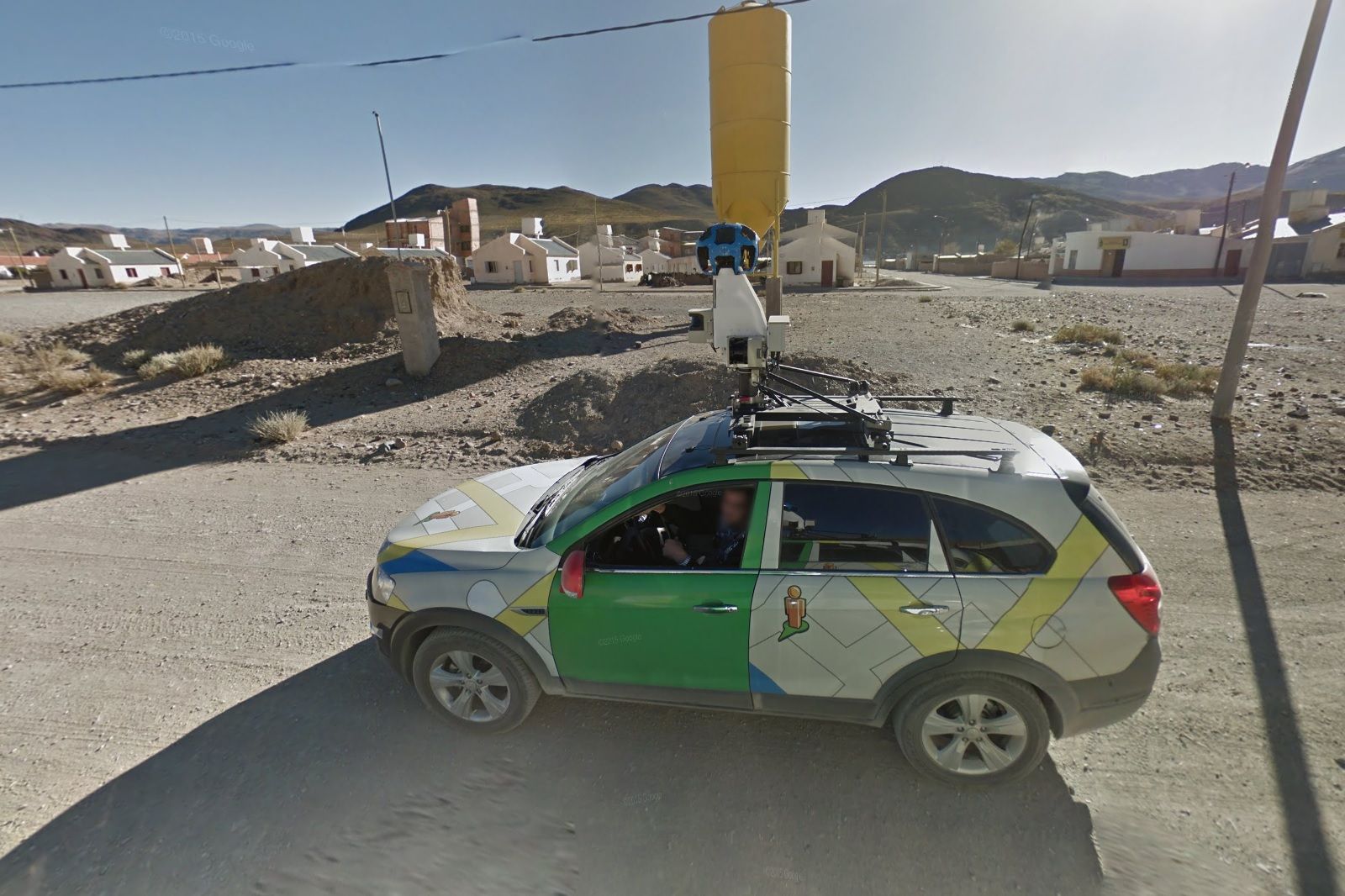 In Argentina two cars can be seen side-by-side, the drivers probably stopping for a quick chat before they carry on snapping.
They say you never see a bus then two come along at once. Perhaps the same is true of the street view cars too. In Argentina two cars can be seen side-by-side, the drivers probably stopping for a quick chat before they carry on snapping.
Bread head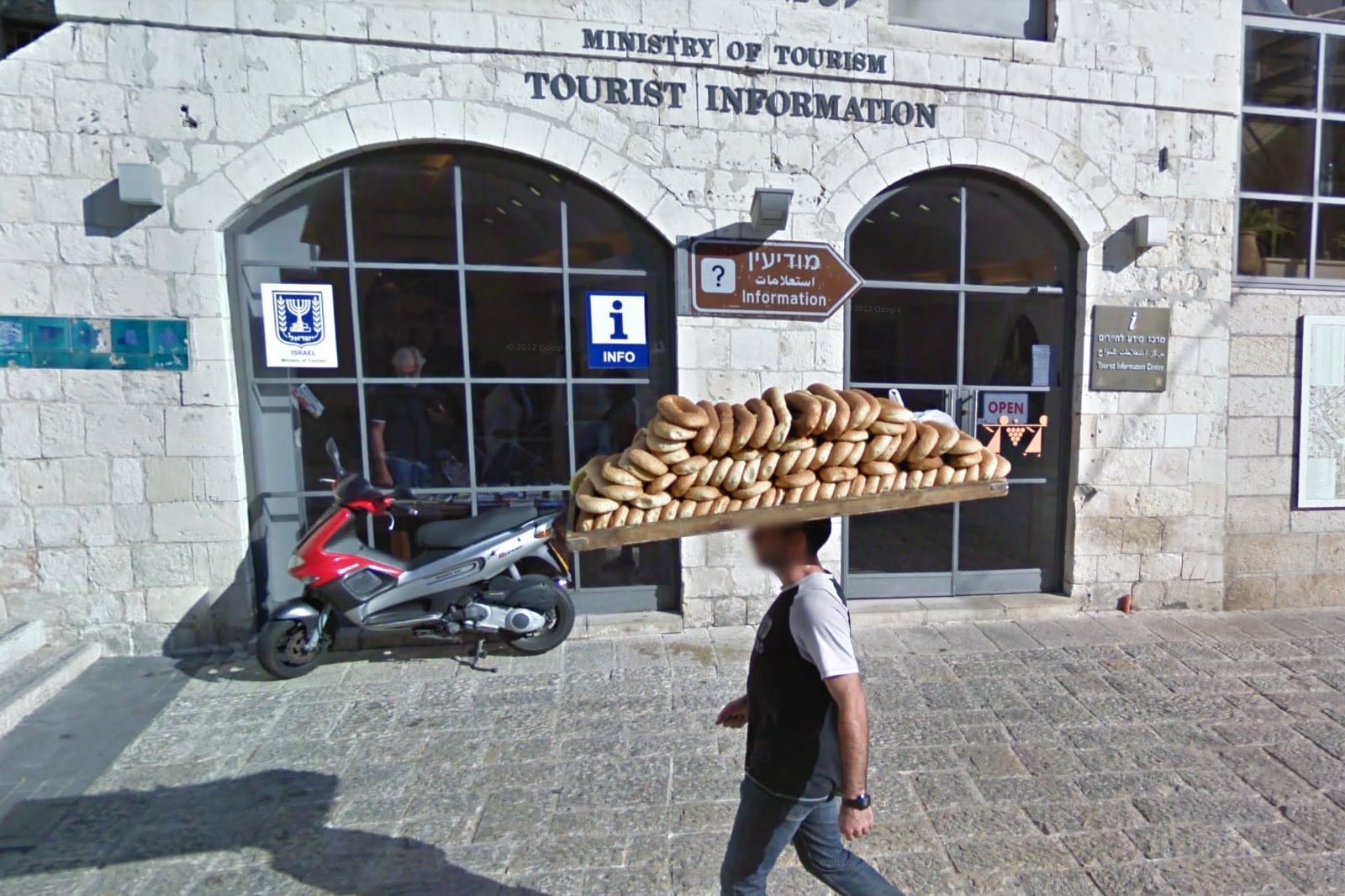 Near the historic city gate (Jaffa Gate) in Jerusalem, a man carries some food along the street using only his head as a method of transport.
Inside the Doctor's Tardis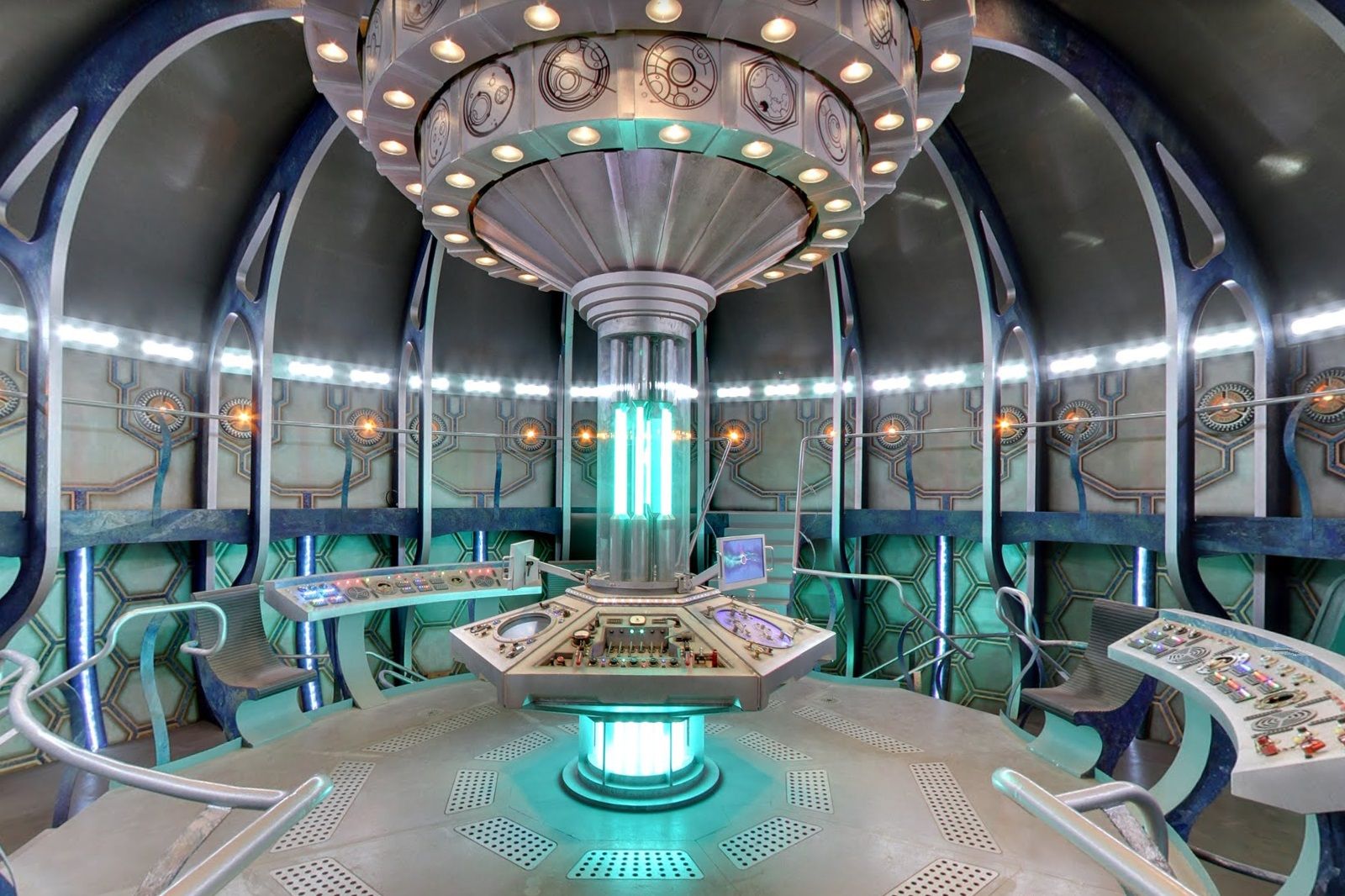 The internal view of the Tardis allows you to take a tour around the magical vehicle capable of travelling through space and time. It's certainly bigger on the inside than the out.
Kids in the river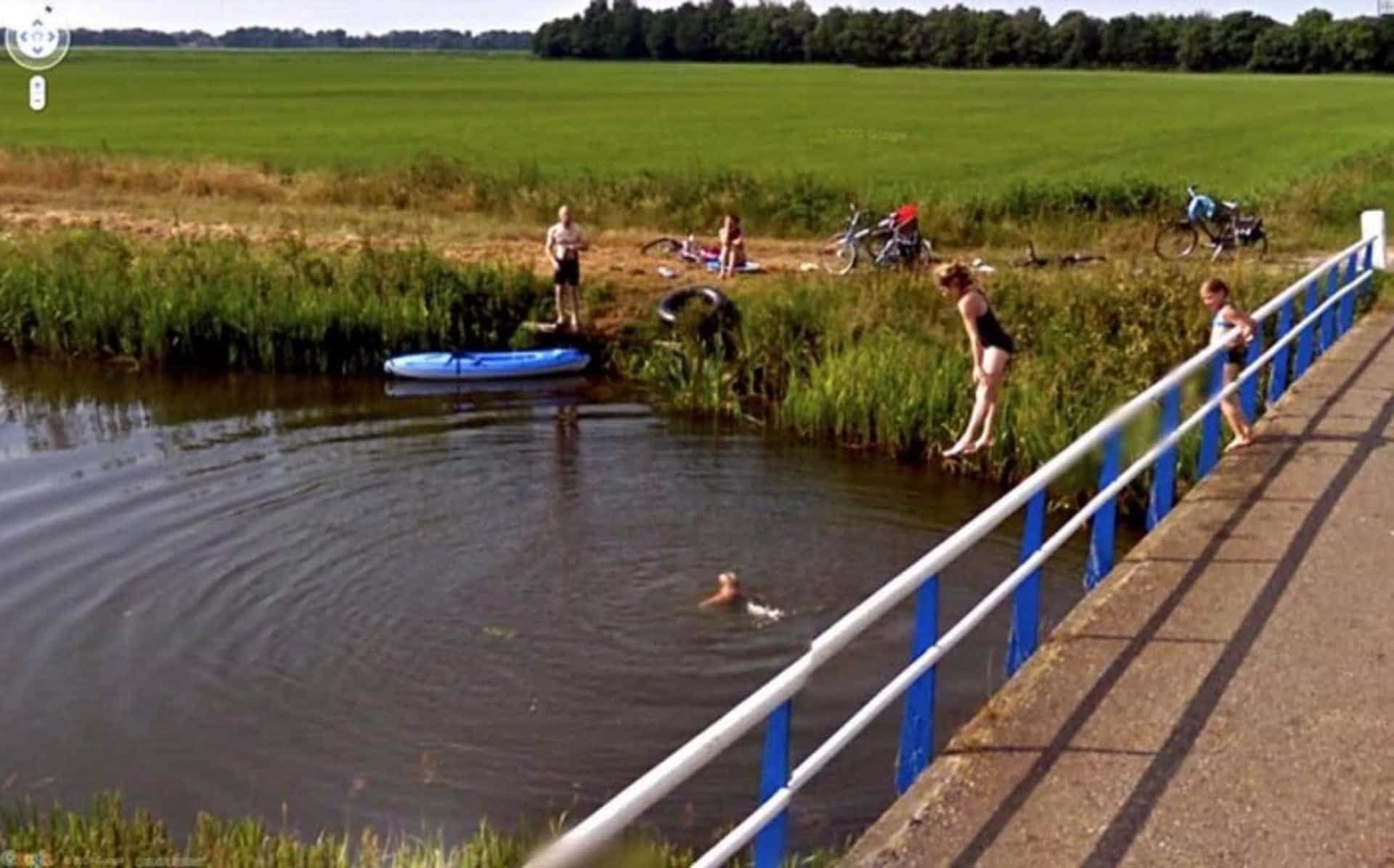 In a moment of perfect timing, the Street View car drives by just as some small people jump off a bridge into the cooling waters of the river below. Fun and frollics in the summertime.
Underwater at the great barrier reef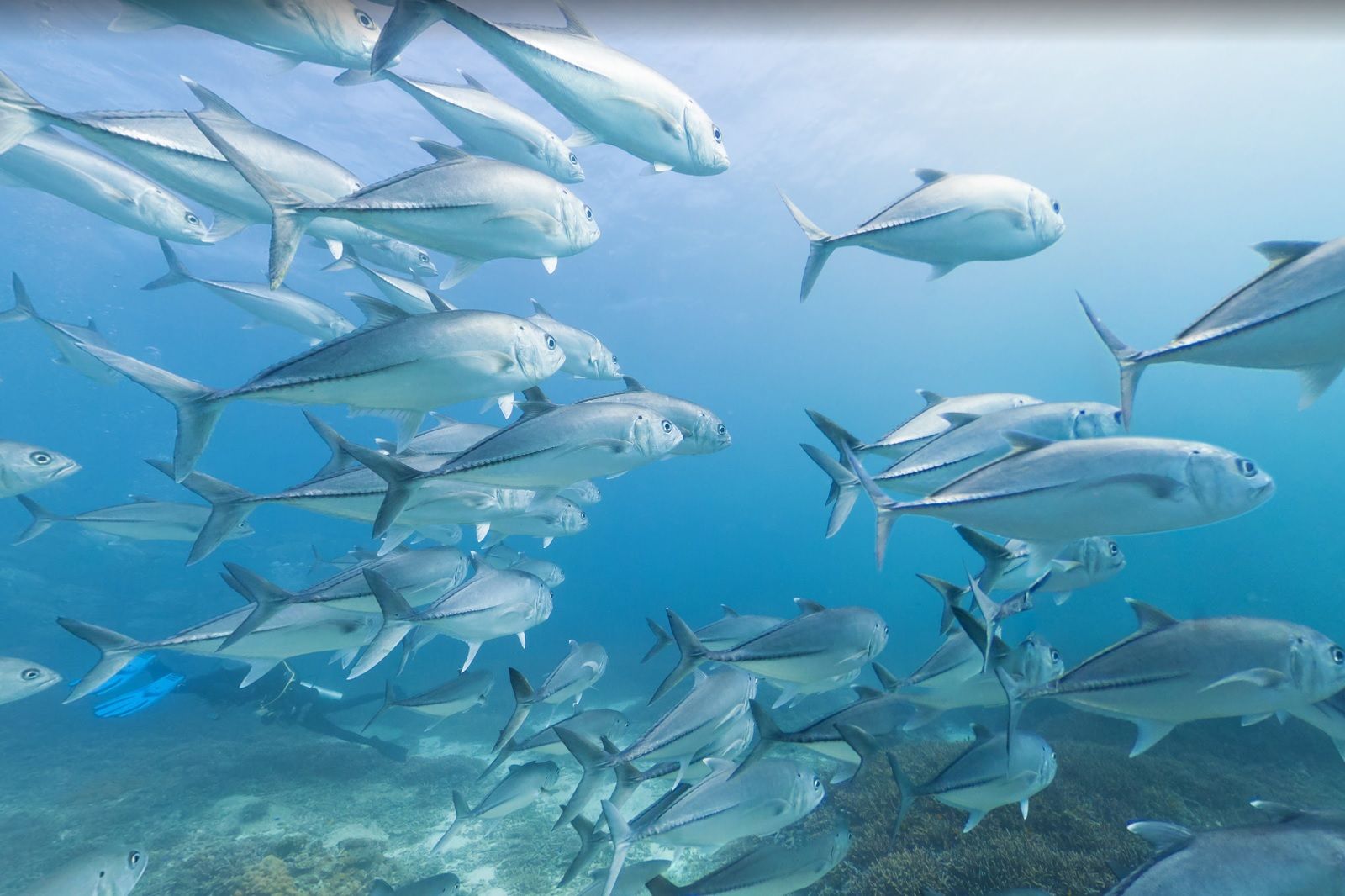 As well as scouring the streets, these street view cameras have also been under our oceans capturing the views and majesty of the world. Schools of fish casually swimming by, going about their daily grind, oblivious to the camera capturing their glory.
The Doctor's Tardis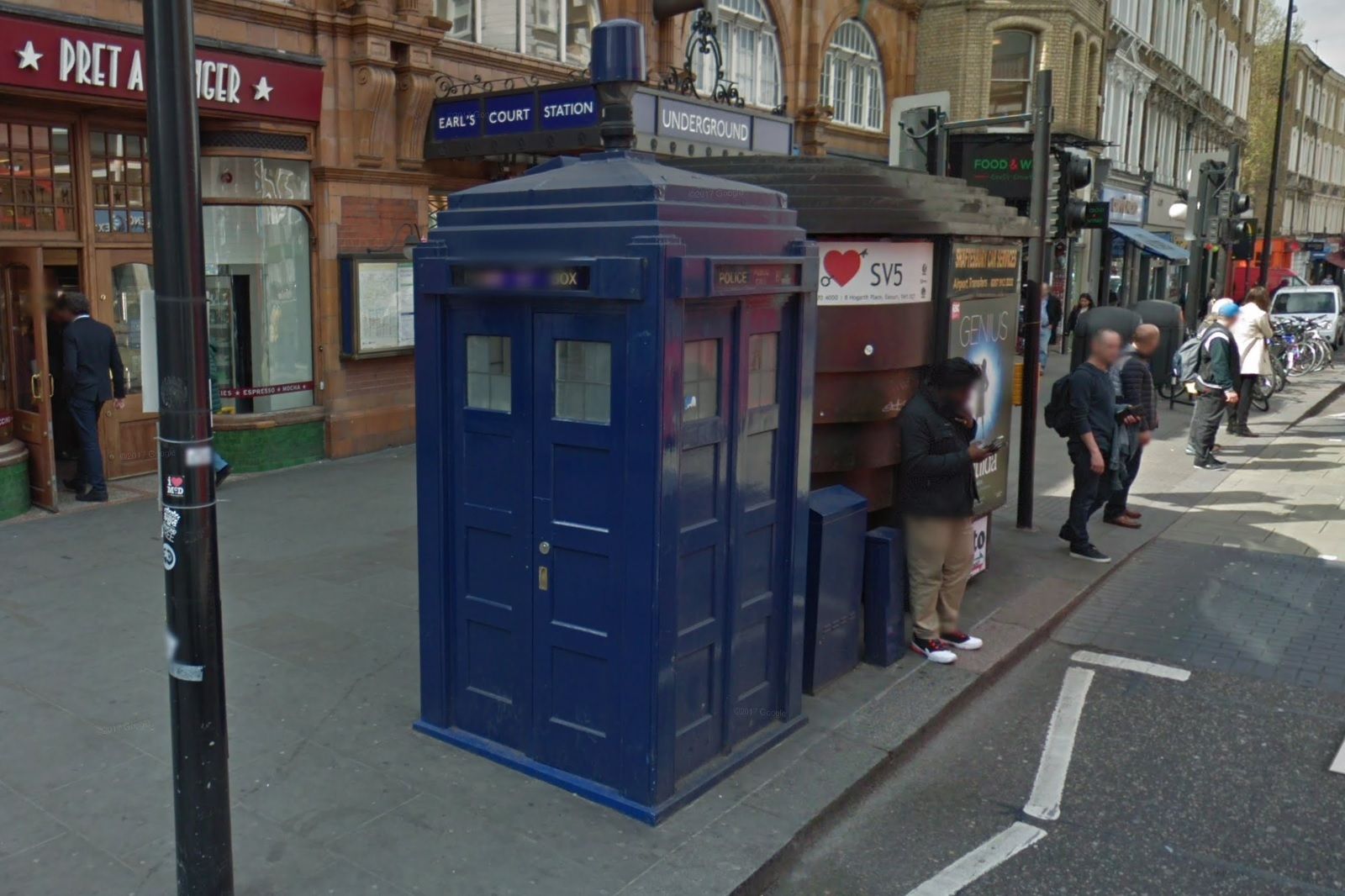 Earl's Court London is home to Doctor Who's Tardis. A brilliantly British view on the streets of London. The online view of this location also allows you to step inside for a tour too.
End of the road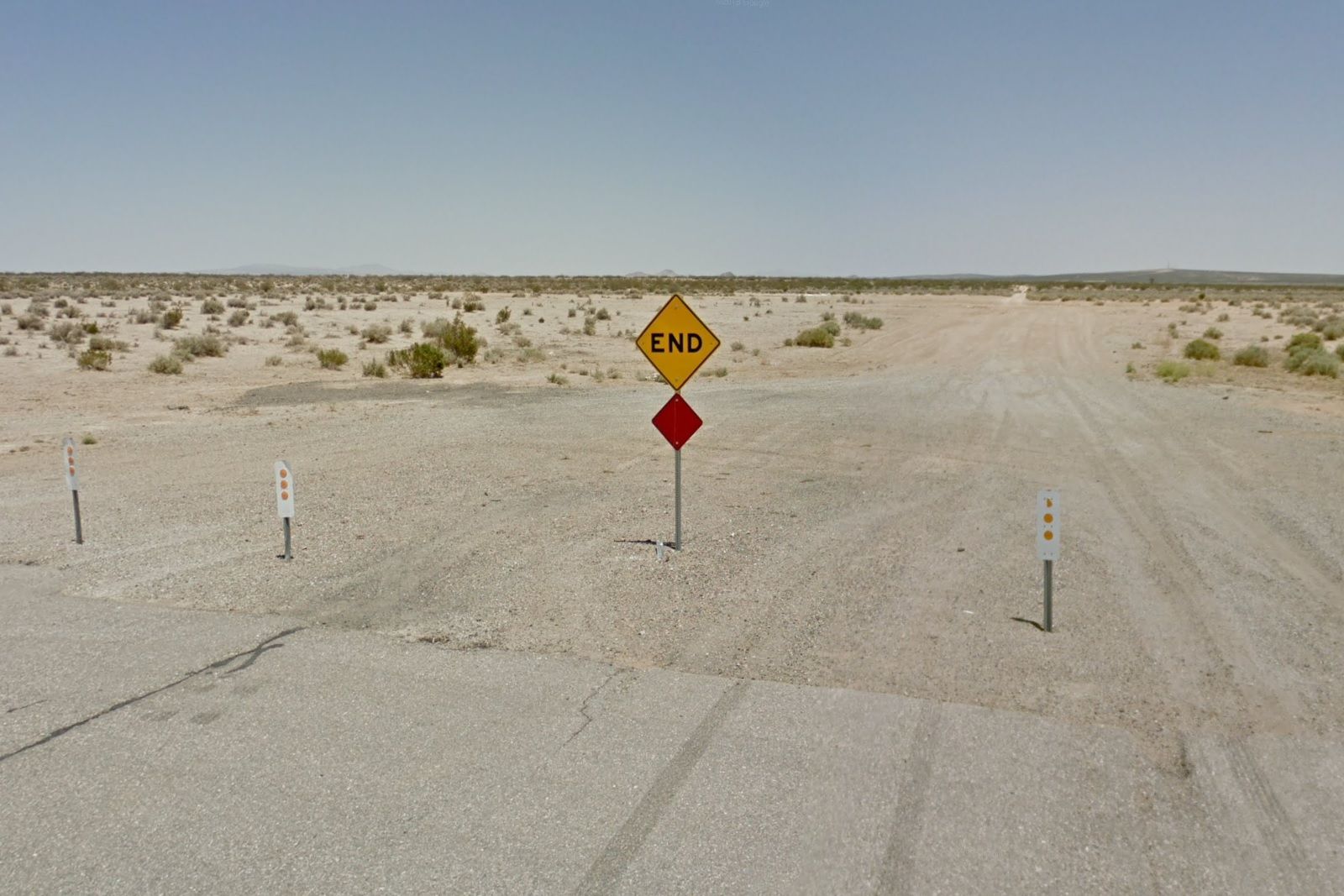 At a certain spot in the Mojave Desert, USA, there's a road that just comes to an end. The end of the world as we know it. Probably the sensible end to any journey in a fairly inhospitable landscape. Some previous photos of this area see the road marked with "hell" and an arrow pointing beyond the sign.
Superhero tea break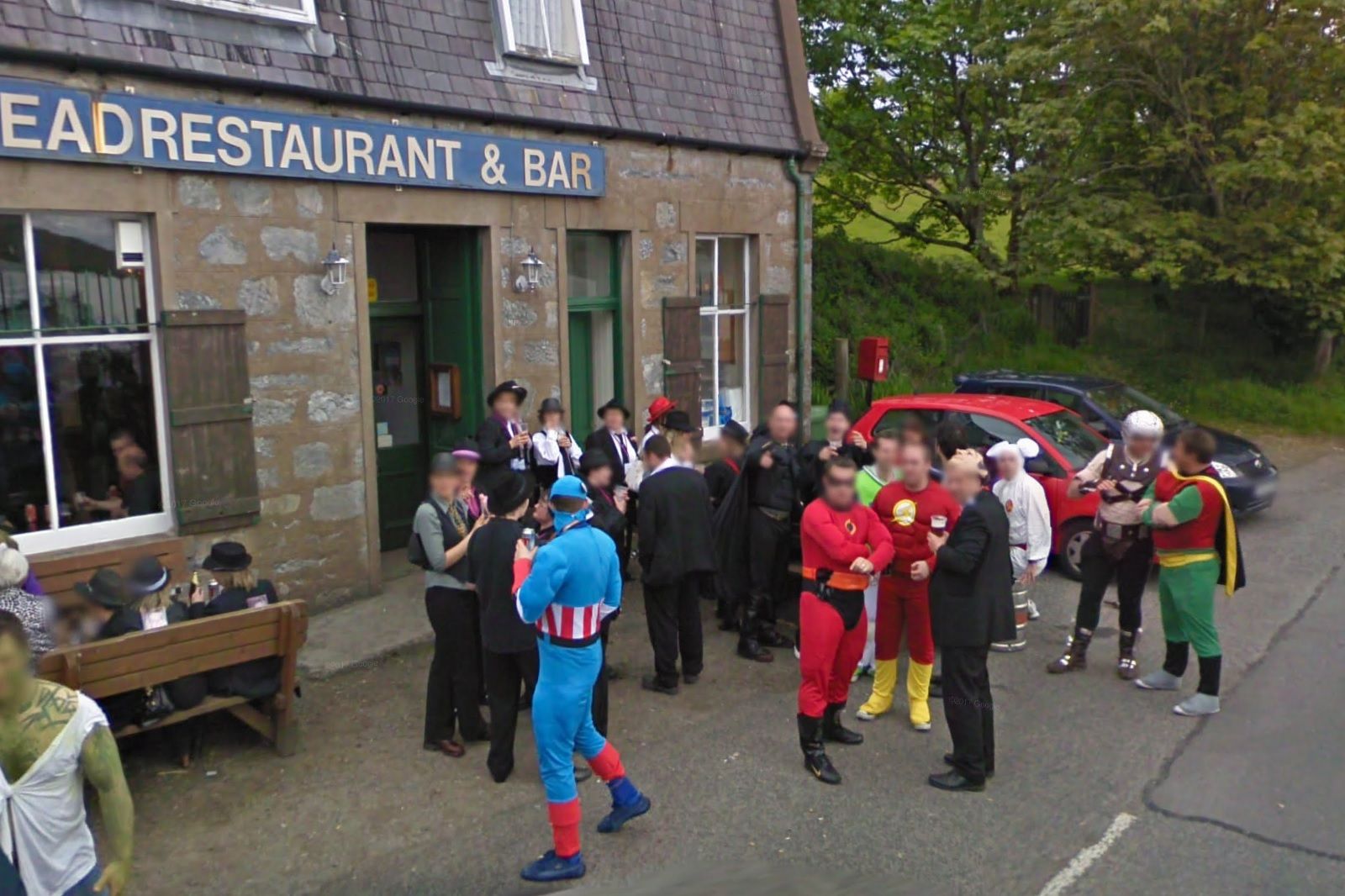 At a roadside restaurant and bar in sunny Scotland, a band of merry superheroes can be seen taking a pit stop for a spot of refreshments. The coach carrying these masked men is parked across the road, we just hope the supervillains don't have access to the same online tools we do.
A small roadside mishap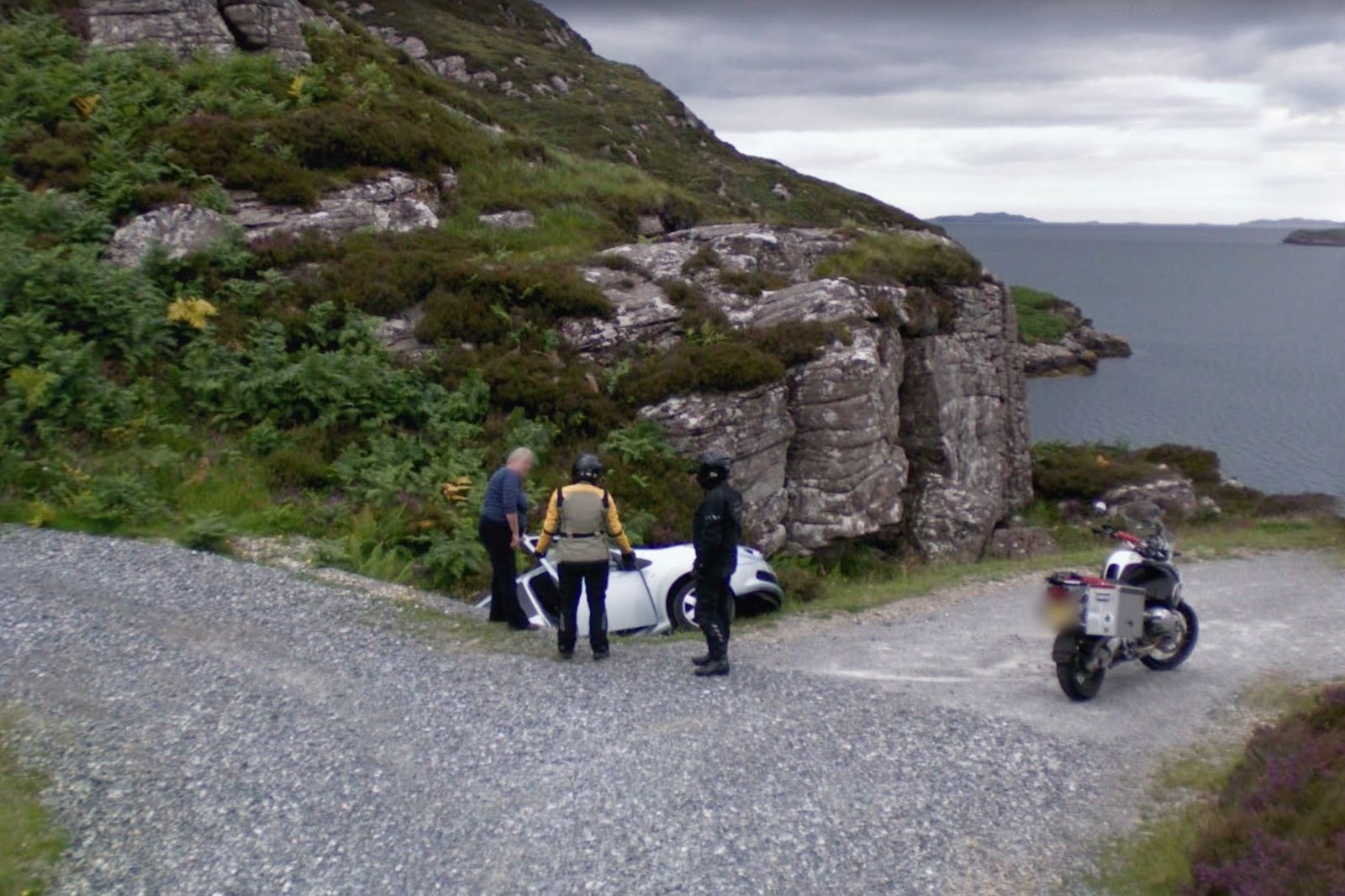 Another view from Scotland shows a bit of a mishap as a car pokes out of a ditch at the side of the road. Some passers-by have stopped to help as the camera car drives by.
Pole dancing practice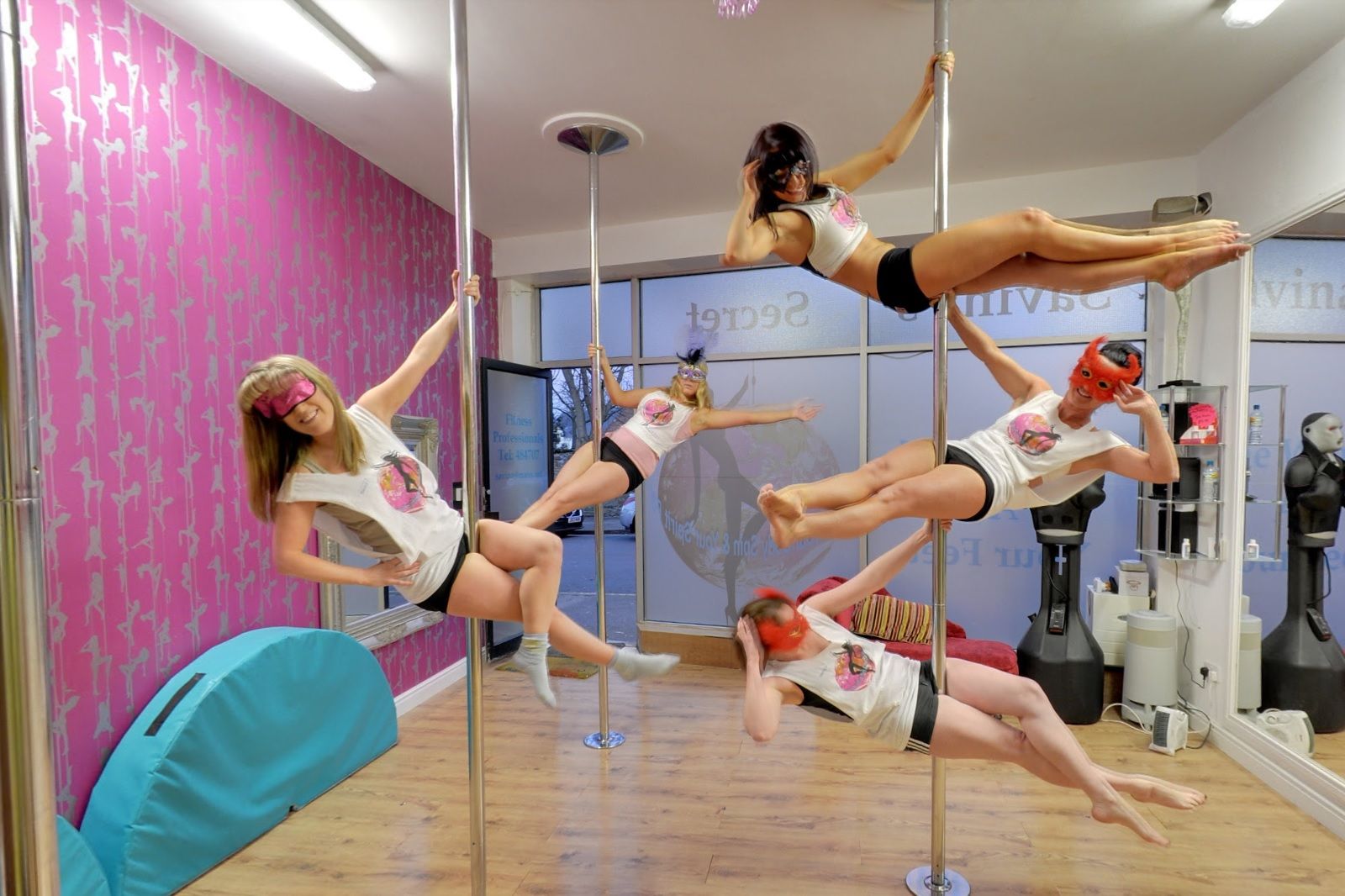 These virtual views of the world are not restricted to the streets, there are also businesses which allow you to see inside their walls. On the Isle of Man, you can take a tour of Savina's Secret – a dance school where you can see some ladies practising their skills on the pole.
The seaweed monster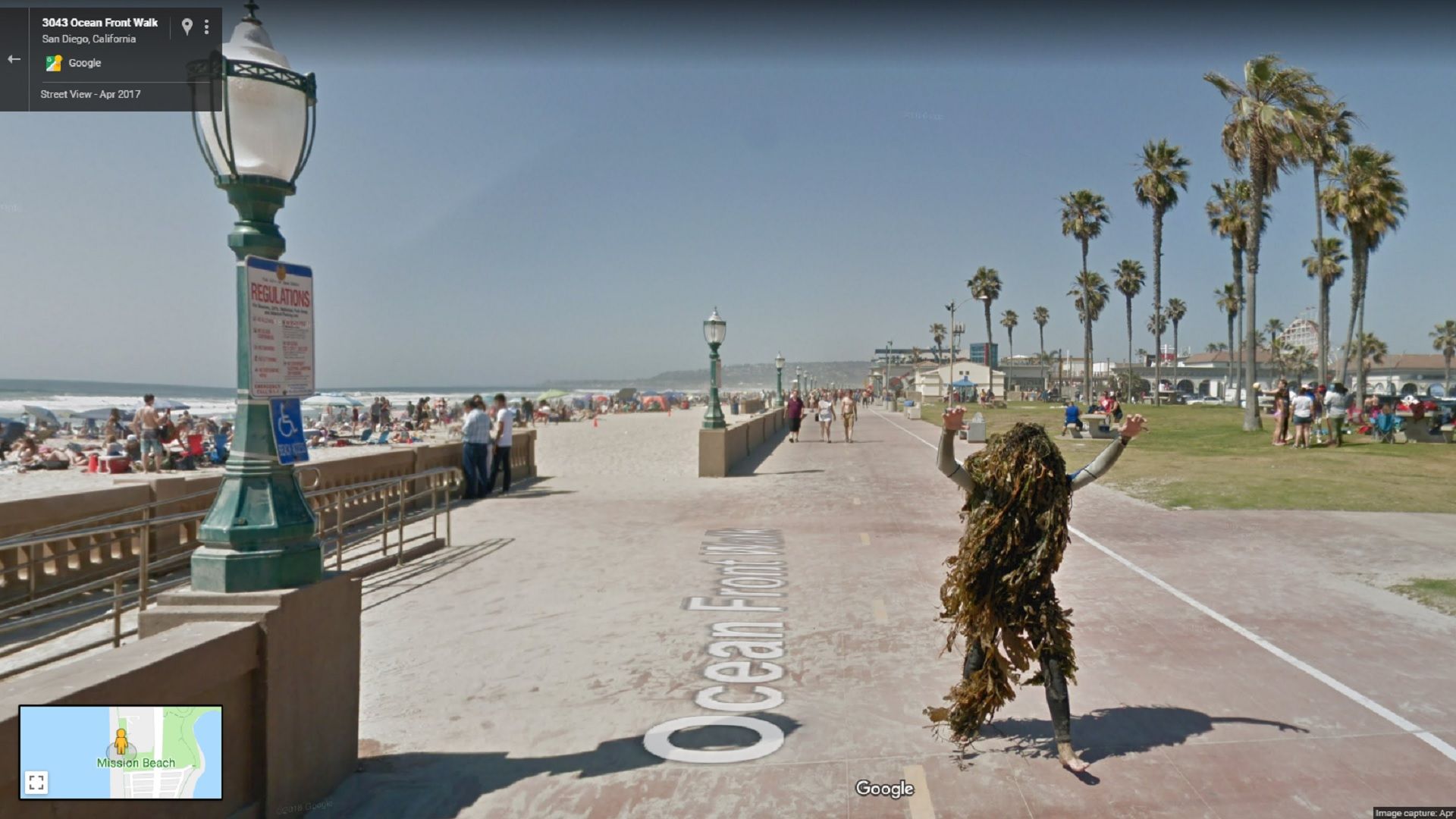 From the shores of California, comes an angry sea monster emerging from the deep to wander the urban streets. We're not sure why this person has covered themselves in seaweed – maybe it's camouflage – but it's awesome.
This one is even more amusing, if you follow it down the street you can see the person following the Street View vehicle and even stopping for a photo with adoring fans.
Air guitar with style
When the Street View car was passing down this road in Illnois, one worker saw his opportunity to grab 15 seconds of hilarious fame. Air guitar with a spade. Awesome stuff.
A journey through time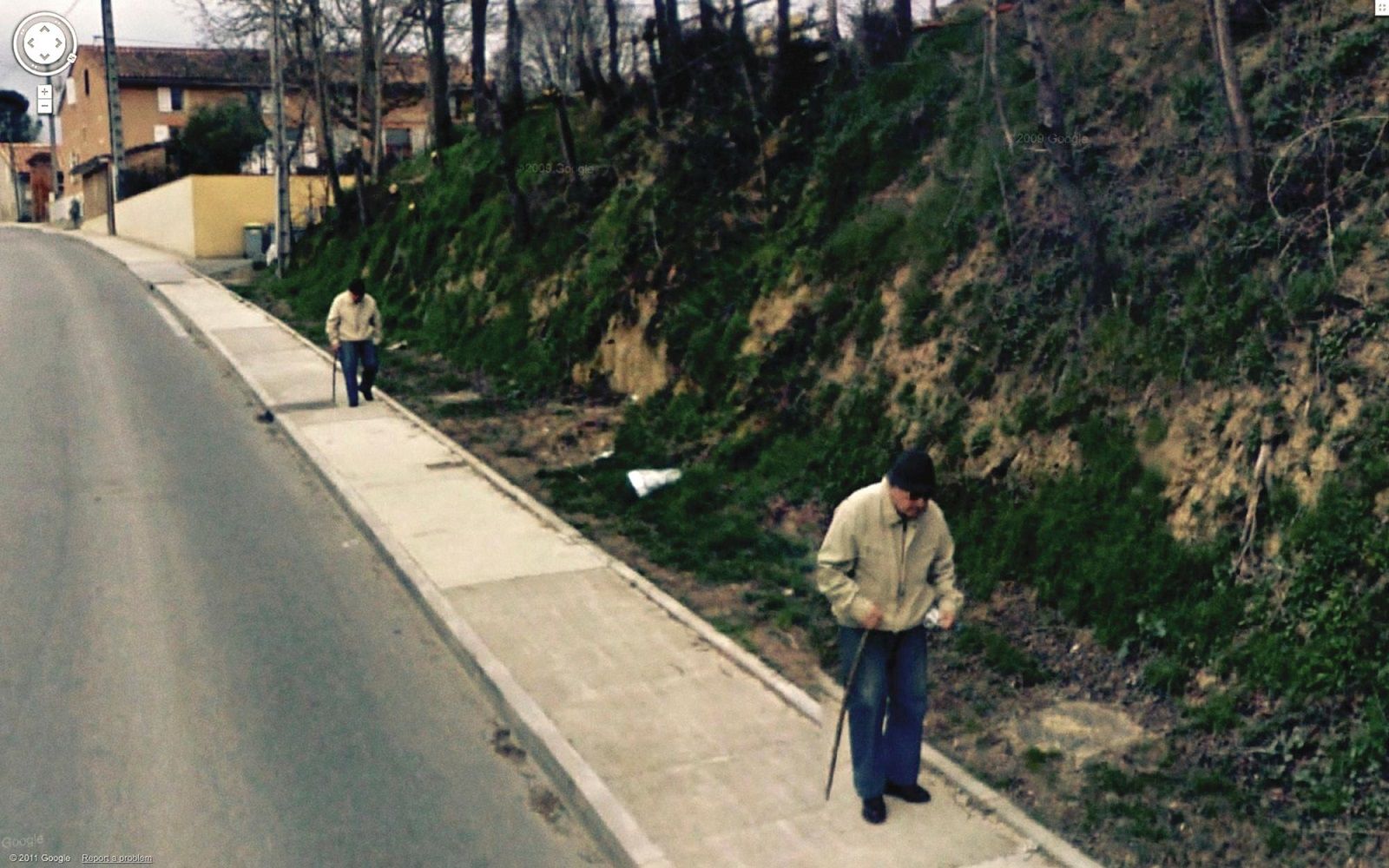 An elderly man is caught by the Street View car as he takes a casual walk down the street. Somehow, the resulting image appears like a vision into the future and the past – showing him in two different stages of his journey.
A Sunday jaunt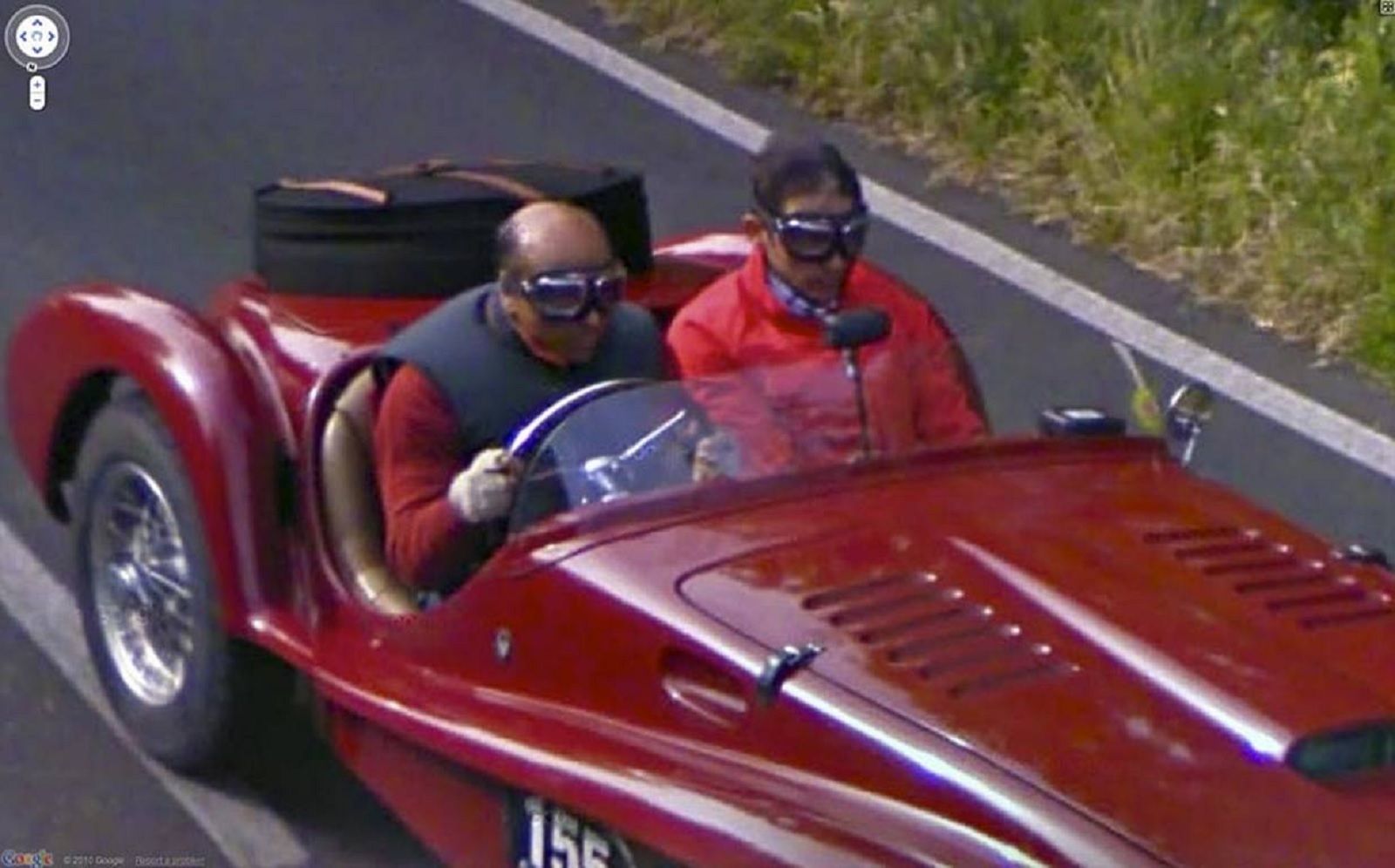 This brilliant snap captures what appears to be two awesome fellows out for a spot of Sunday driving. Classic car, wind goggles and good times ahoy.
Modern William Tell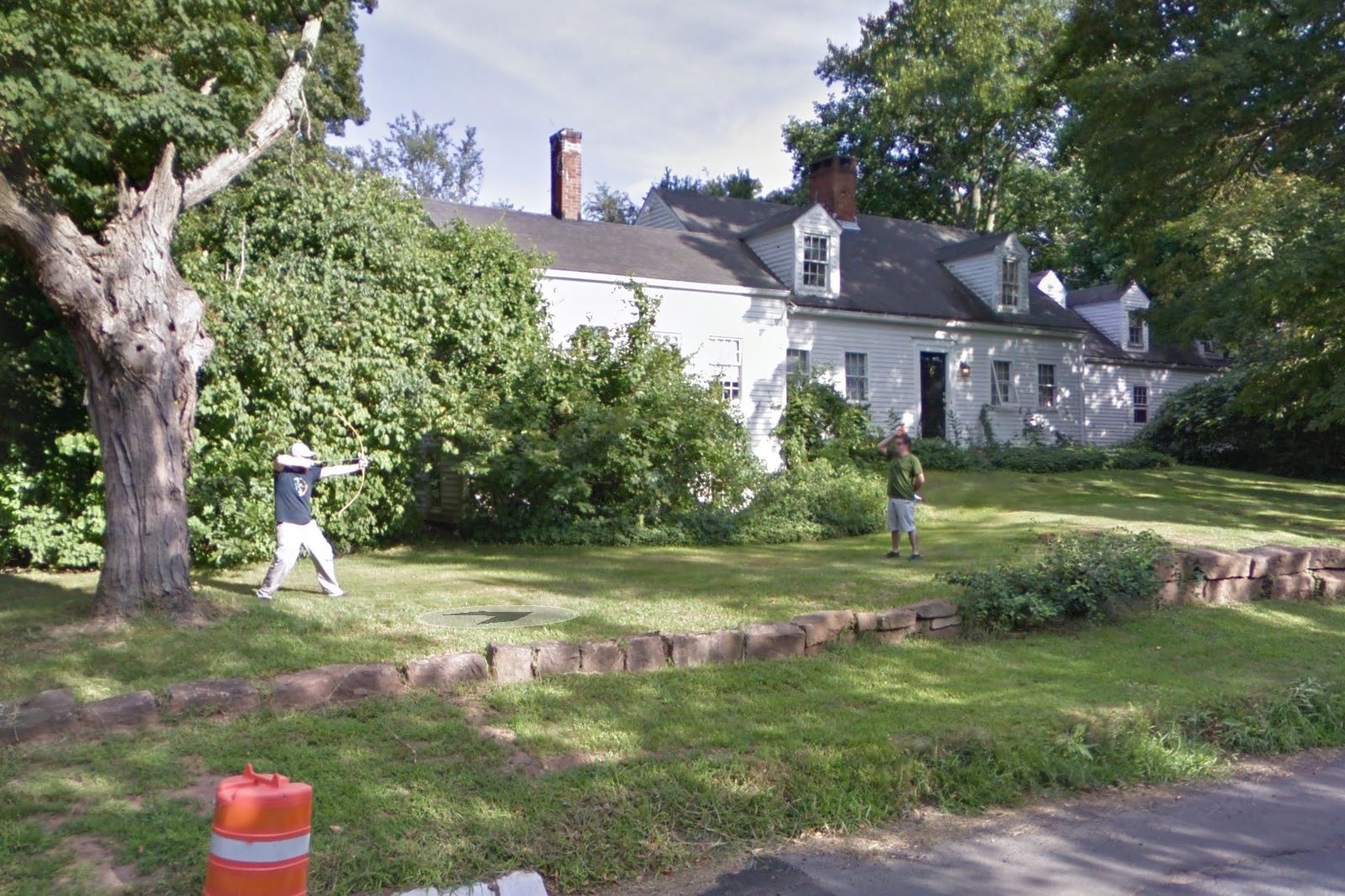 In Connecticut, USA a man readies his bow to shoot an object off his friend's head. We're not sure what happened to the two men, but we hope it wasn't the same fate that befell William Tell.
A view within a view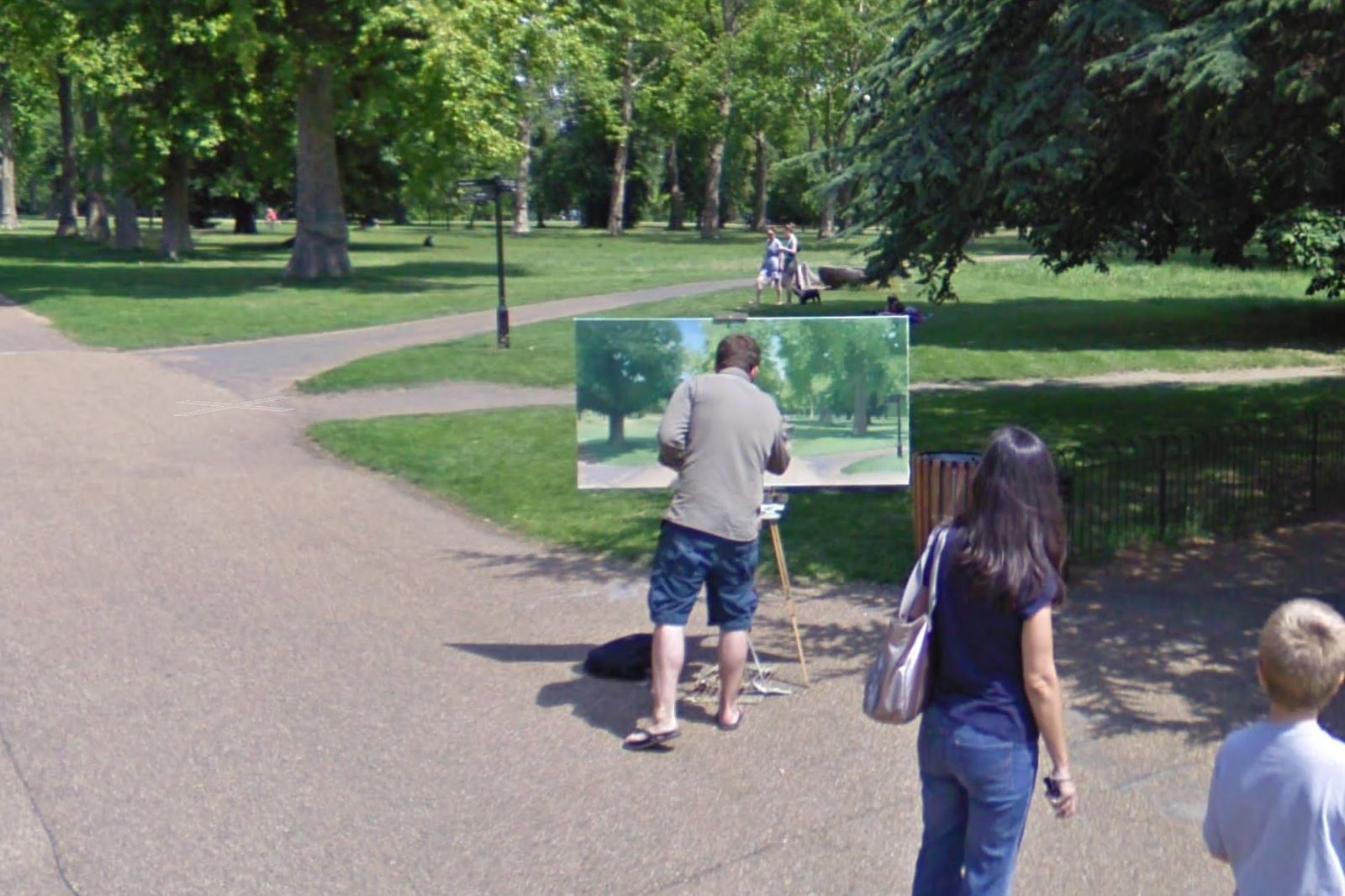 This photo captures a man putting oil on canvas to capture the beautiful surroundings of Kensington Gardens, London. An image within an image. As onlookers admire his handiwork.
Whoops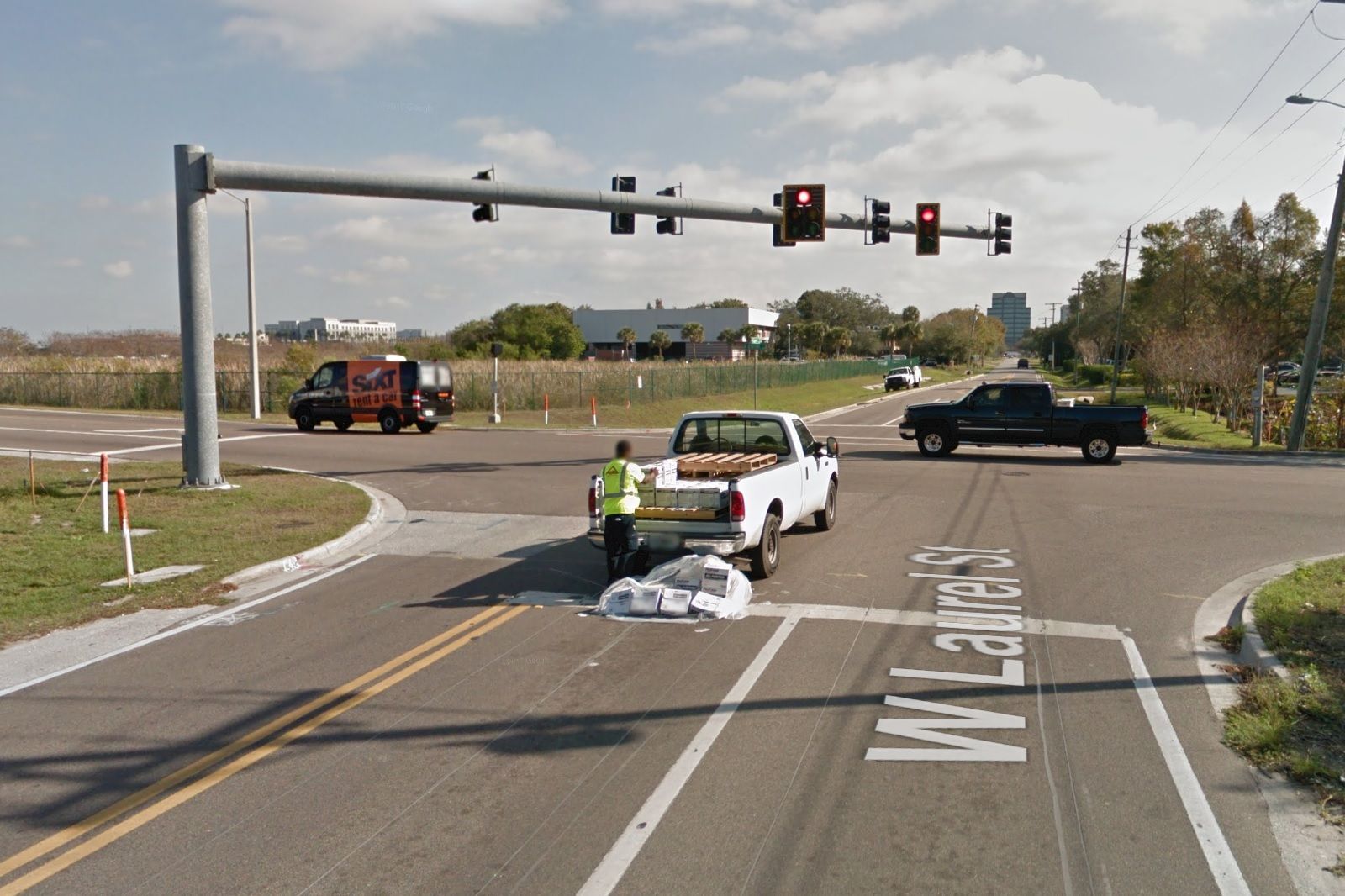 Oh dear. Someone has made a bit of a hash of their delivery and dropped their load all over the road. This photo from Tampa Florida shows the driver's misery as they attempt to sort the problem and we're left wondering what happened.
Summertime Skiing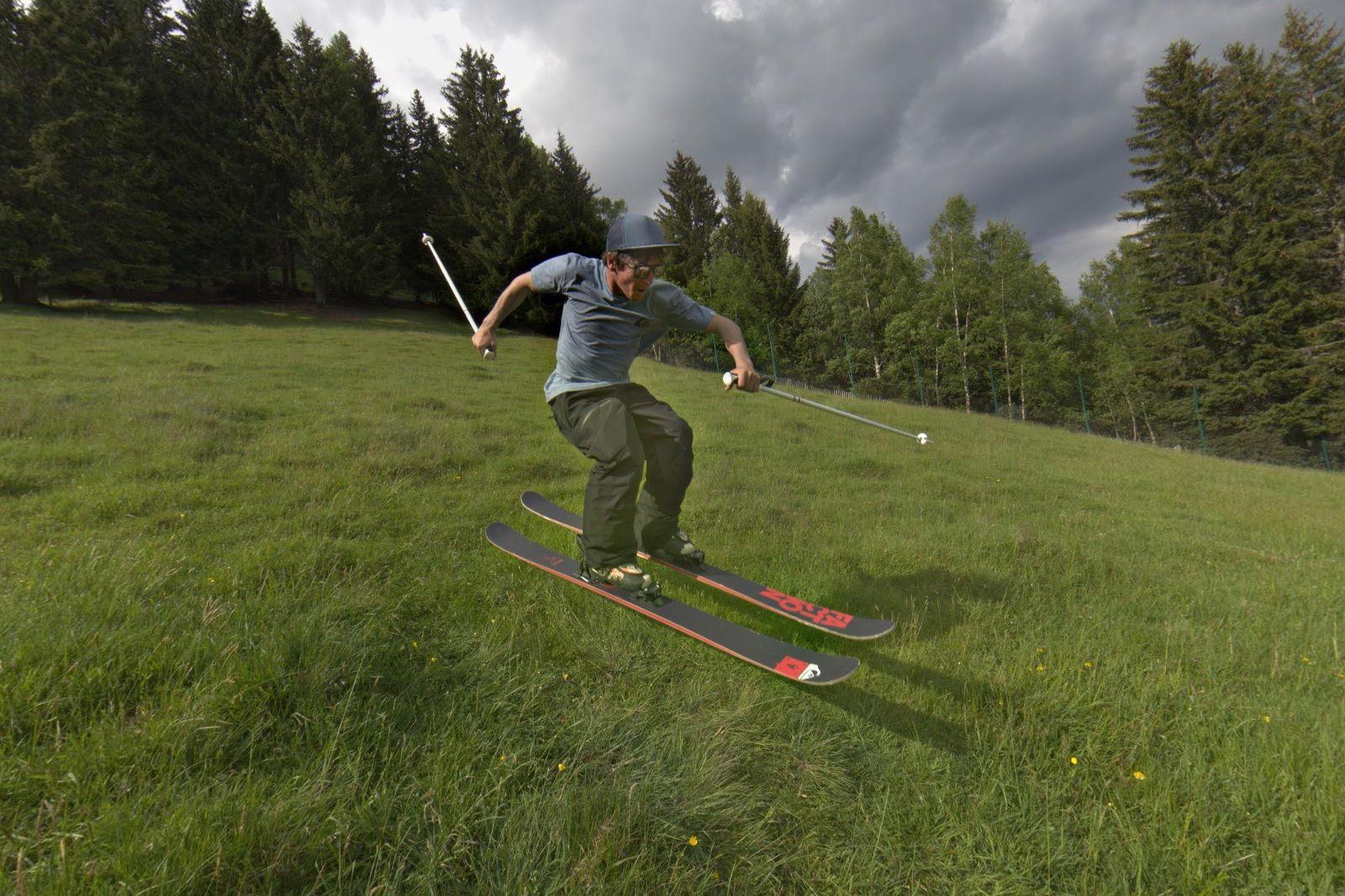 A summertime view from Mont Blanc, on the border of France and Italy, sees a man enthusiastically and perhaps optimistically, trying to ski down a grassy slope.
Pigeon people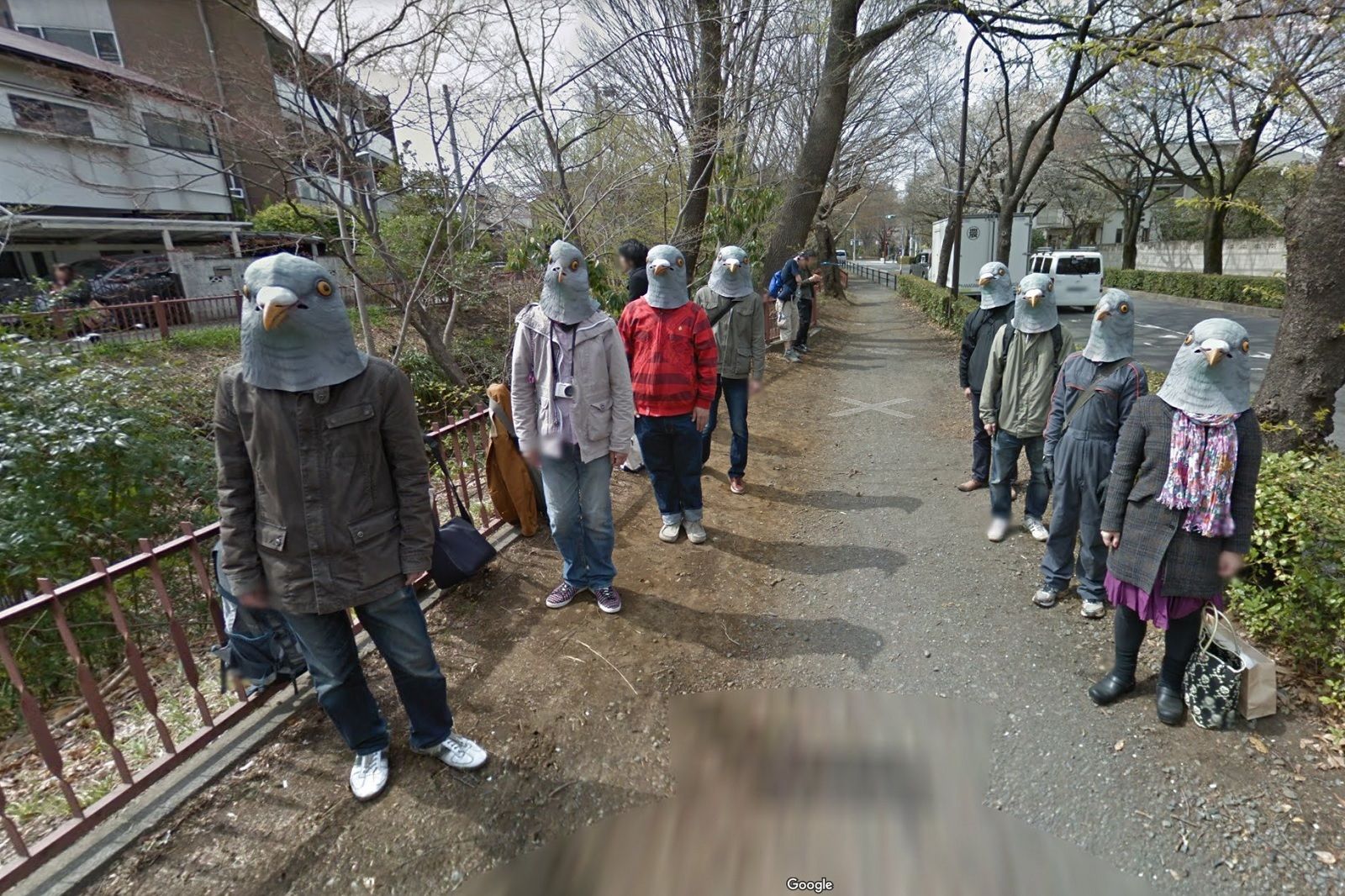 A surprising view from the streets of Tamagawa, Japan. These apparent pigeon people stand motionless on either side of the pavement.
When you see it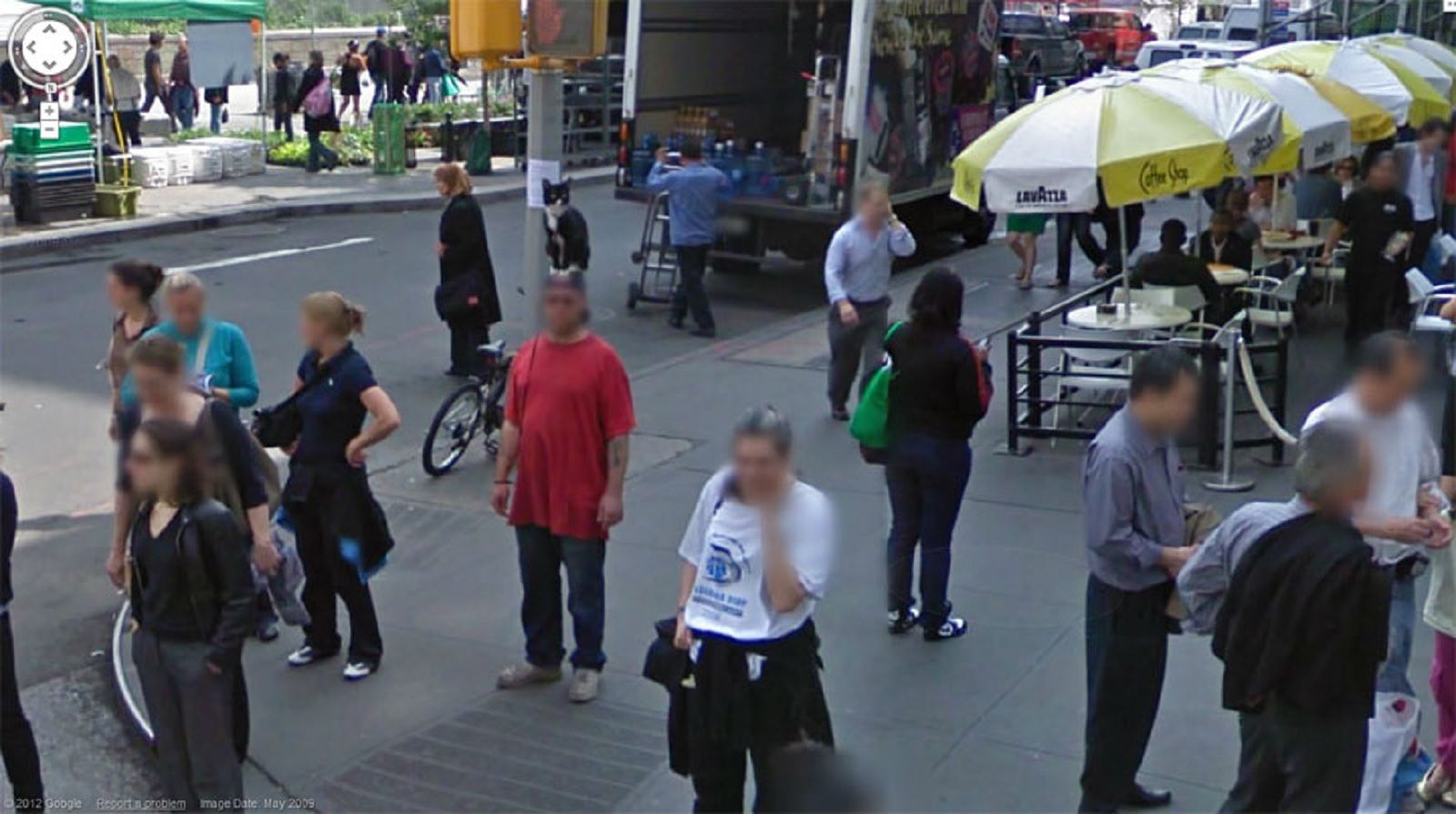 This is one of those photos that has so much going on it, you're not quite sure what you're meant to be looking at. It took us a moment and it was worth it. When you see it, we're sure you'll agree.
Tiger on the loose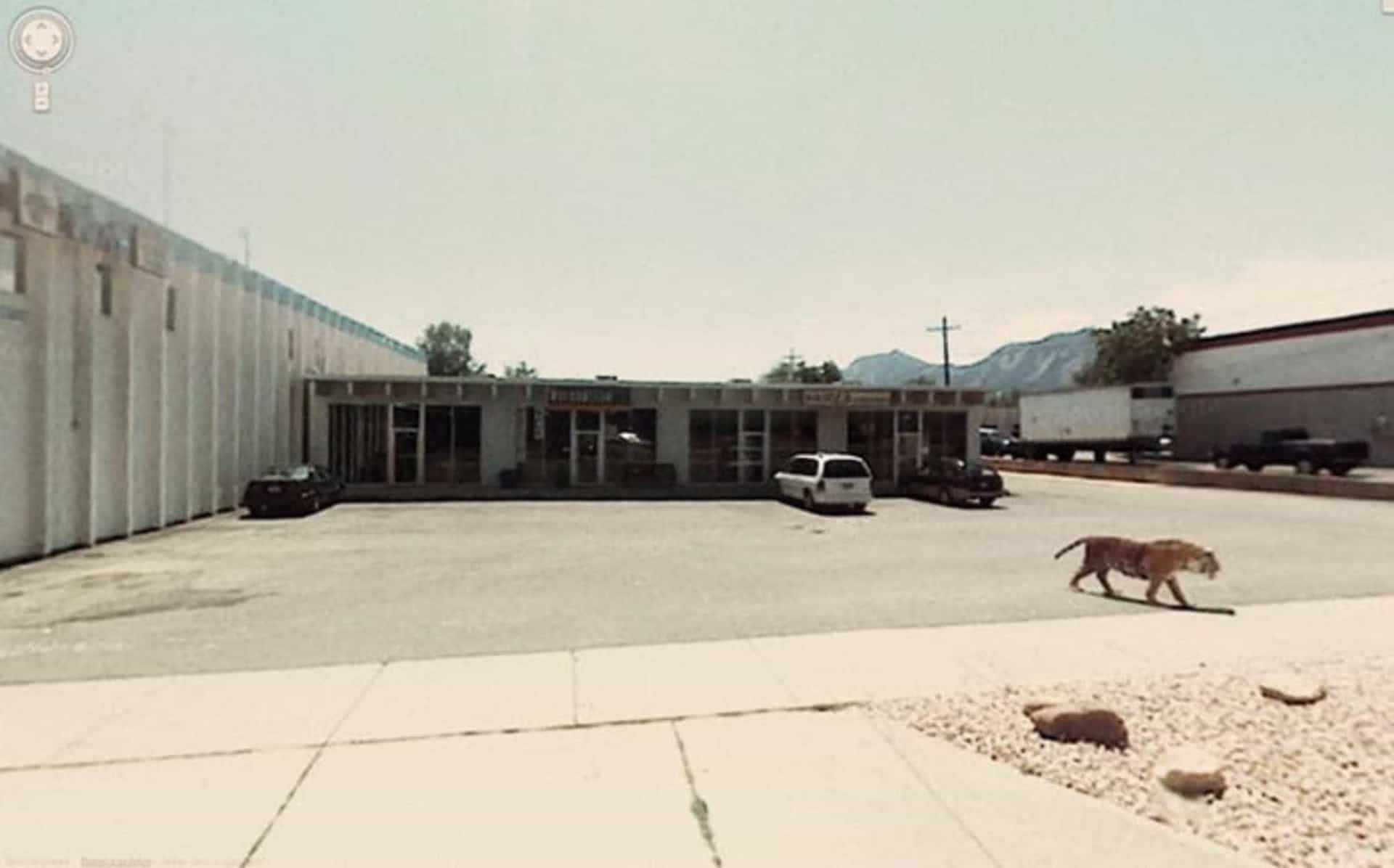 Not the sort of large cat you want to bump into when out for a bit of a stroll. Someone better call animal control. We'd imagine the Street View car driver didn't hang about either.
Dalek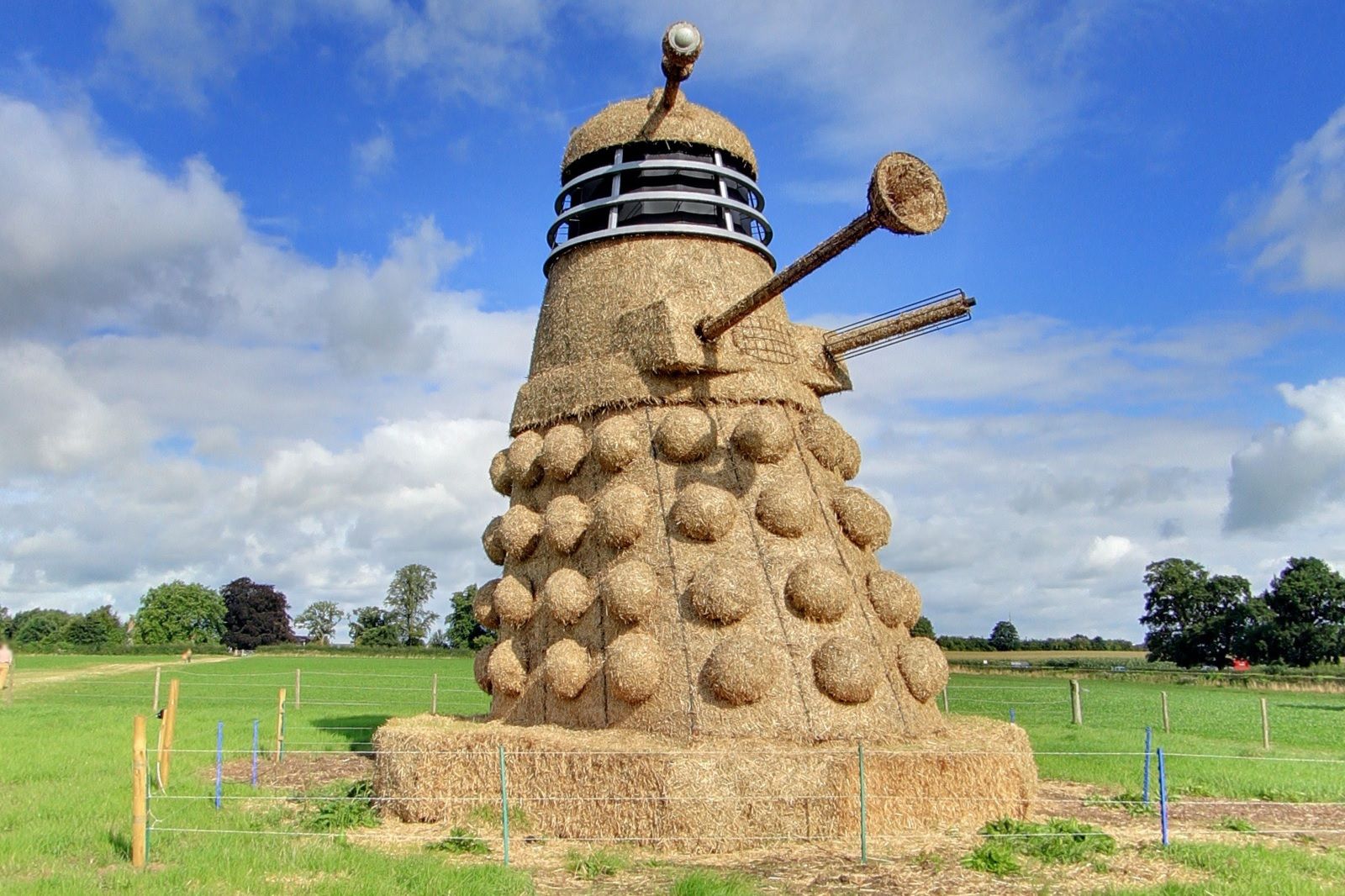 A Dalek made of hay can be seen just outside Snugbury's Ice Cream shop, near Crewe in the United Kingdom. An impressive bit of craftsmanship for all to enjoy.
Corn Maze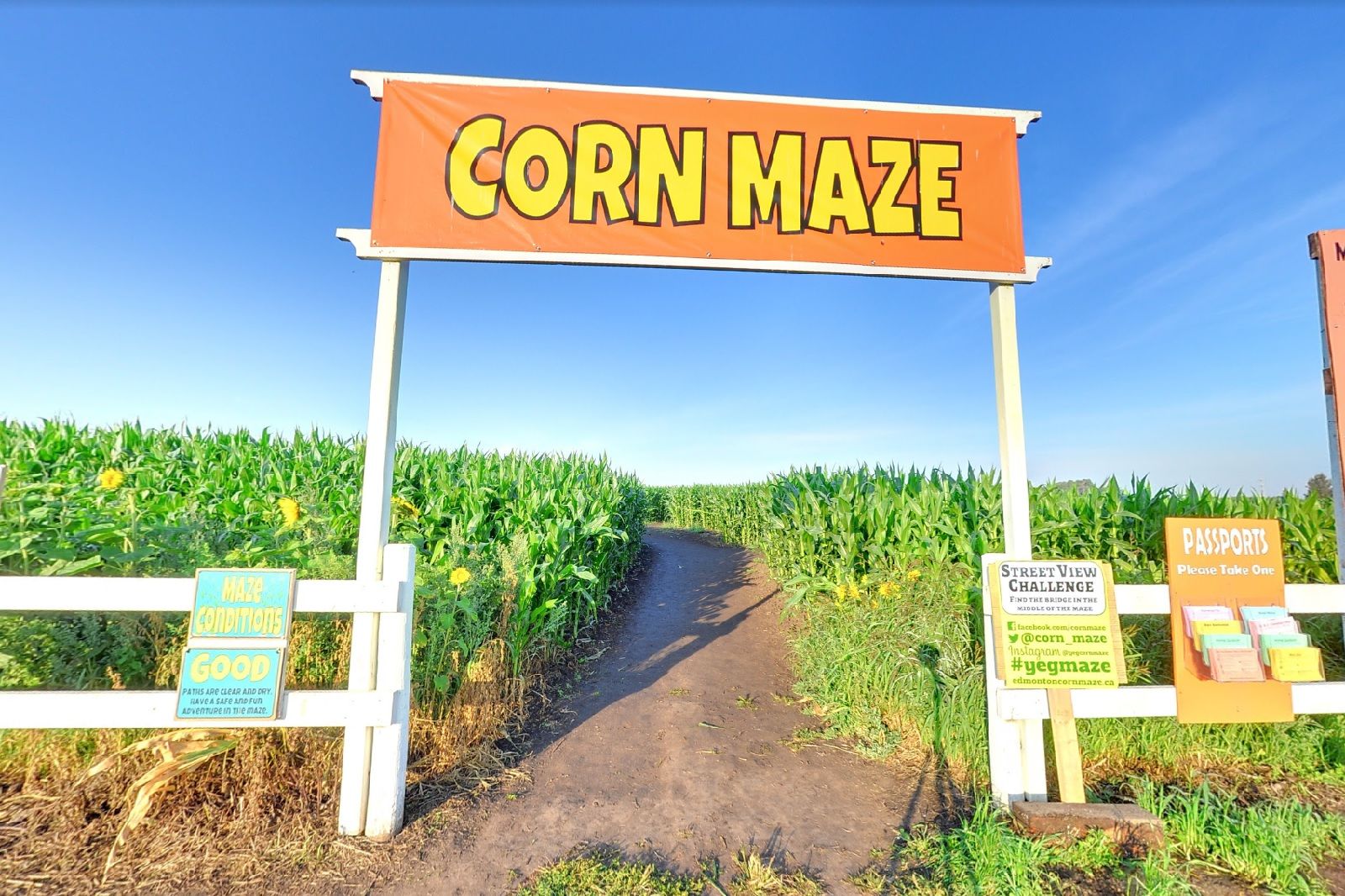 It might not look like much, but this might well be one of the most interesting views on our list. This image is of a Corn Maze from Alberta, Canada – where you can virtually journey through the maze via street view. Yes, it's an electronic maze.
The shark house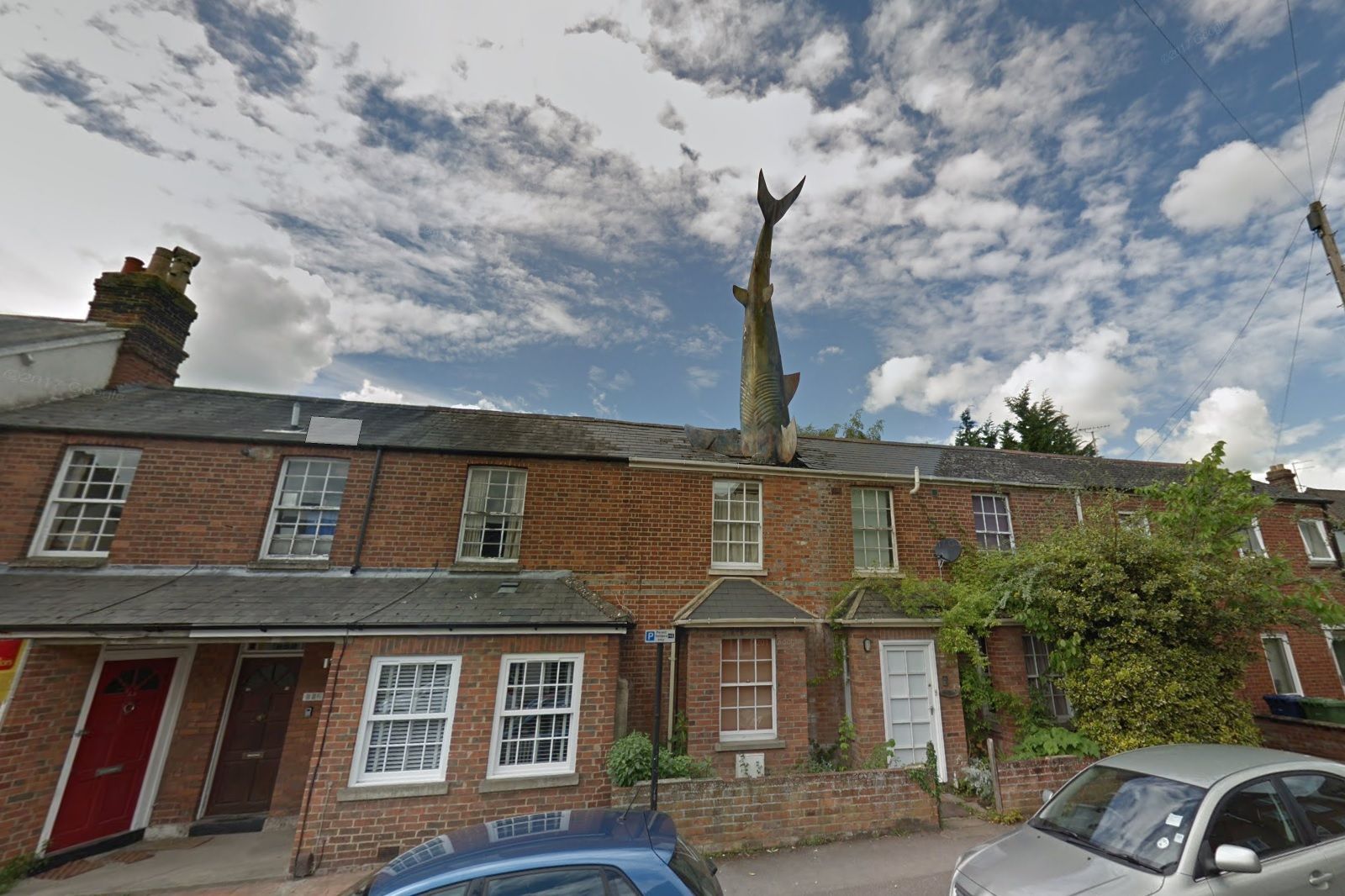 The famous shark house, also known as "the Headington Shark" is a well-known landmark from Oxford, England. Apparently, the owner of the home is currently trying to ensure the shark is looked after once he's no longer capable of doing so.
The ghost town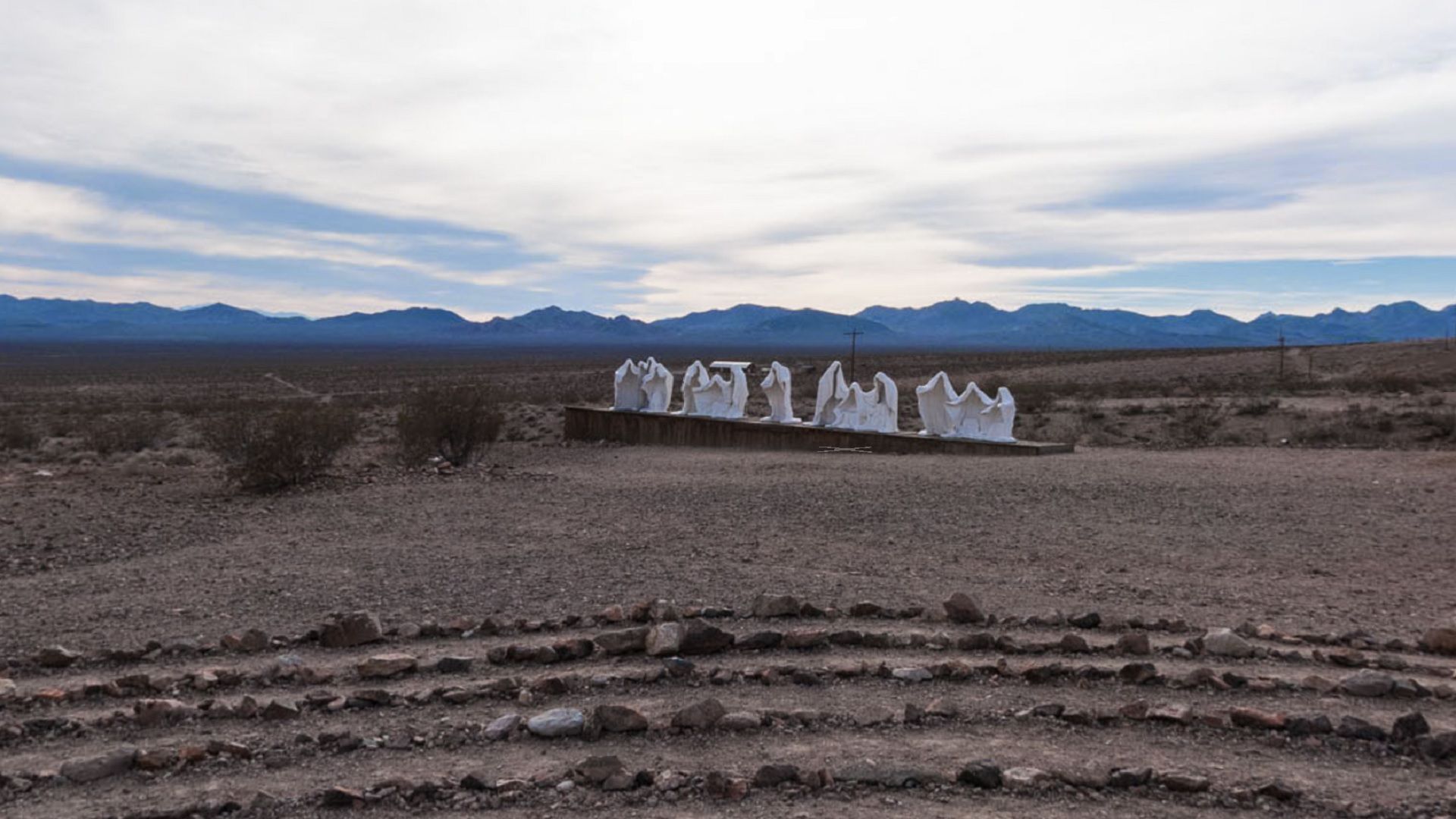 A TikTok user went viral (as they do) when they shared a video that apparently showed some creepy men in an abandoned town.
That town, as it turns out is in Rhyolite, Nevada and is known to be a ghost town that's used for movies and such. The creepy men are actually merely part of an art exhibition in the town and nothing to be afraid of.
Horse man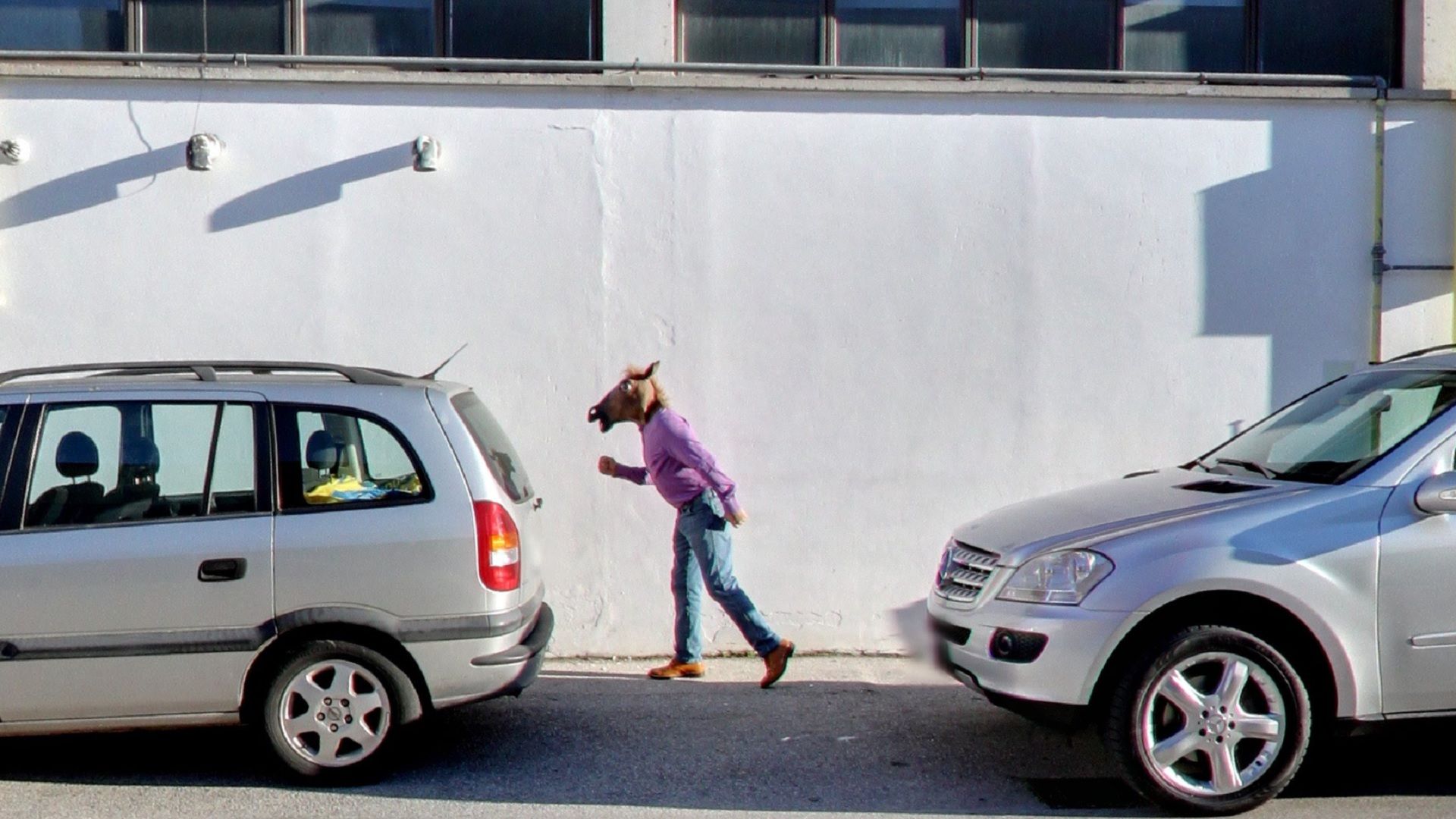 Over in Italy, a man was captured walking around the streets while wearing a horse mask. We bet there's a great story behind this. Maybe he was just off to a party.
A penguin and a Penny Farthing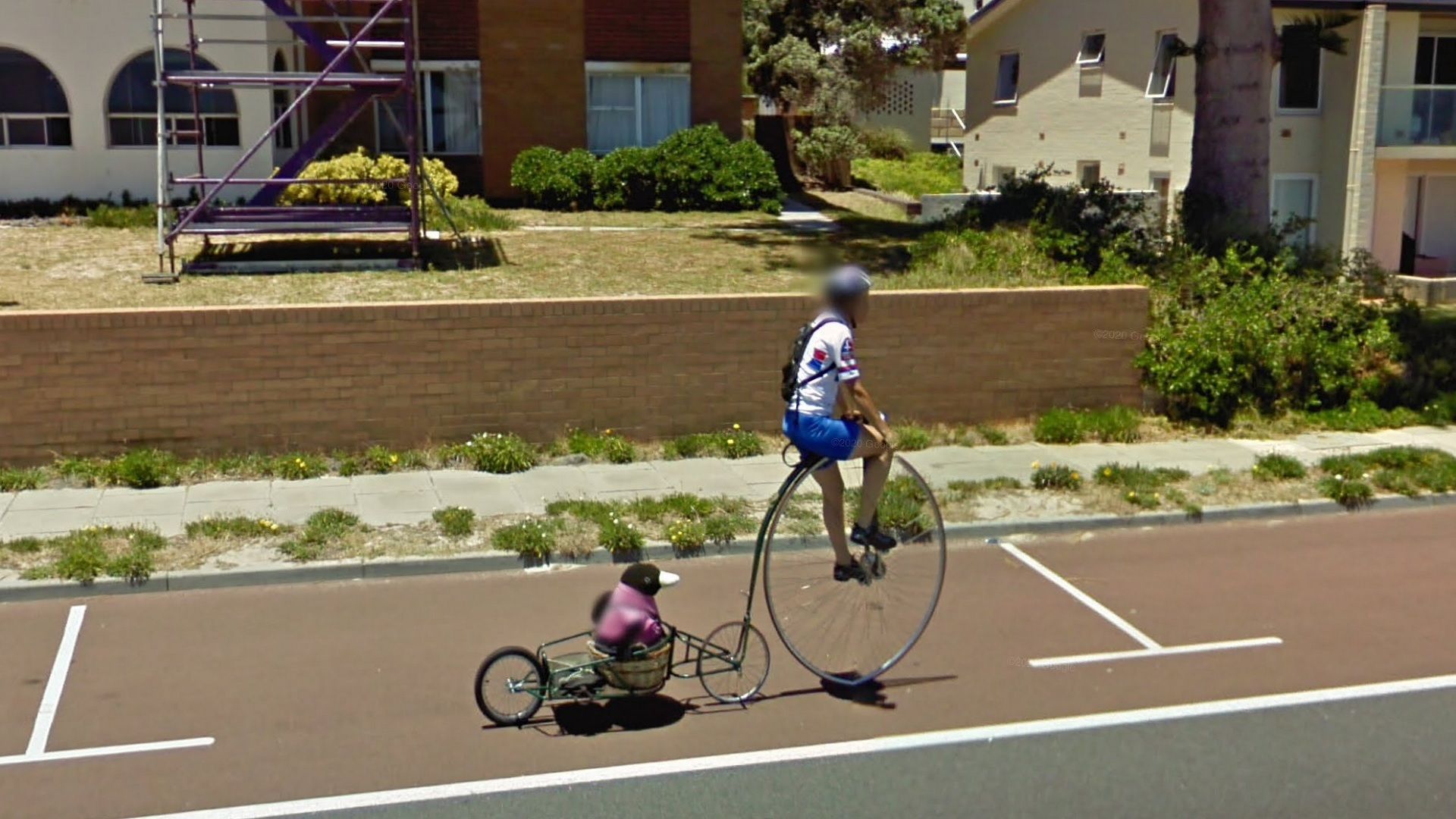 Nothing much to see here, just a person riding a Penny Farthing while a toy penguin sits in a rear seat following behind. Perfectly normal sight on the streets if Cottesloe, Australia.
Caught speeding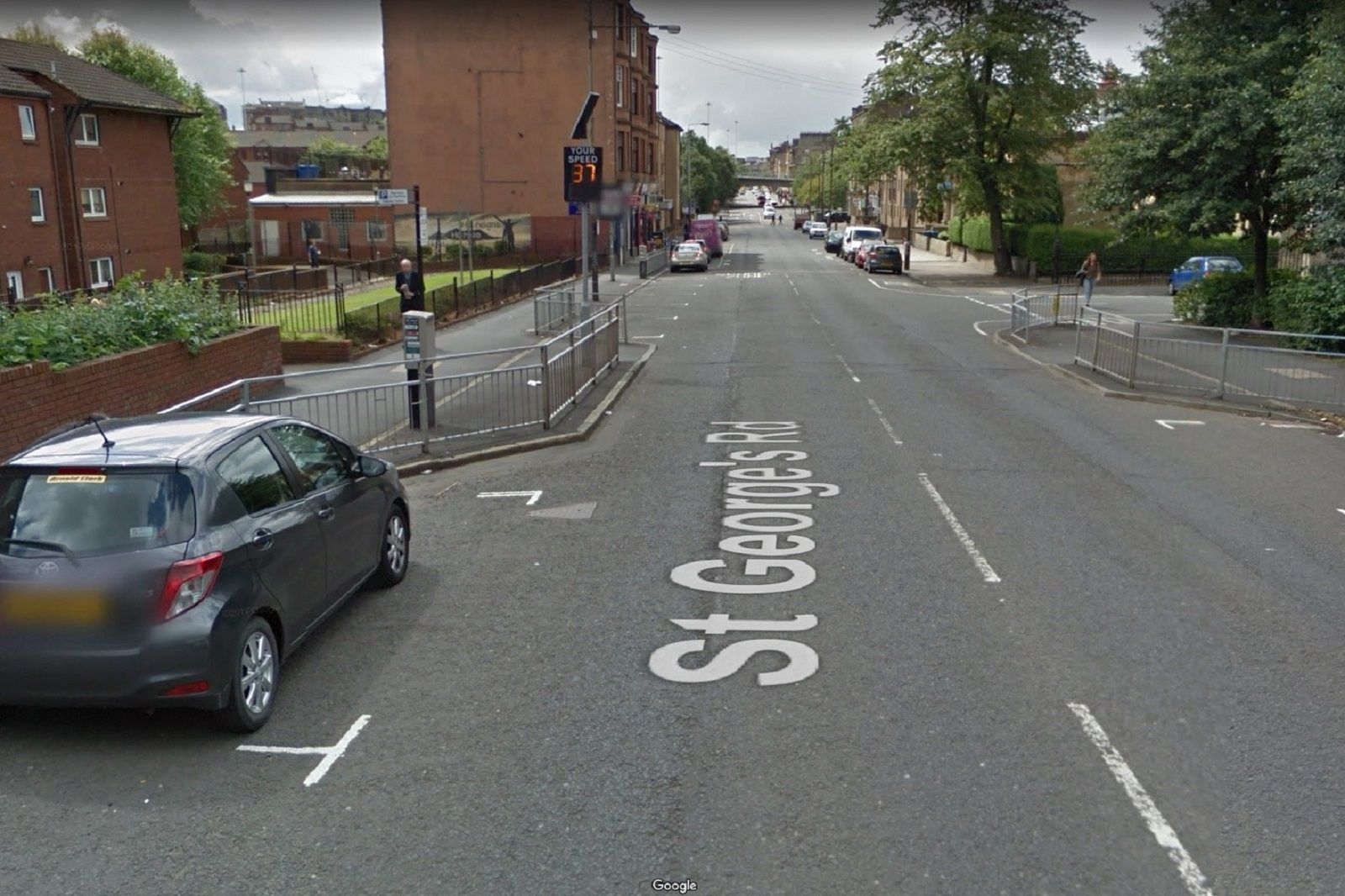 Well, this is awkward. Here on a busy urban street, a Google Street View car has been caught going seven miles per hour over the speed limit. Sure, it's not an official road safety camera with proper speed measurement, but it is a sure indicator that the driver was going too fast.
Hazard suits and golf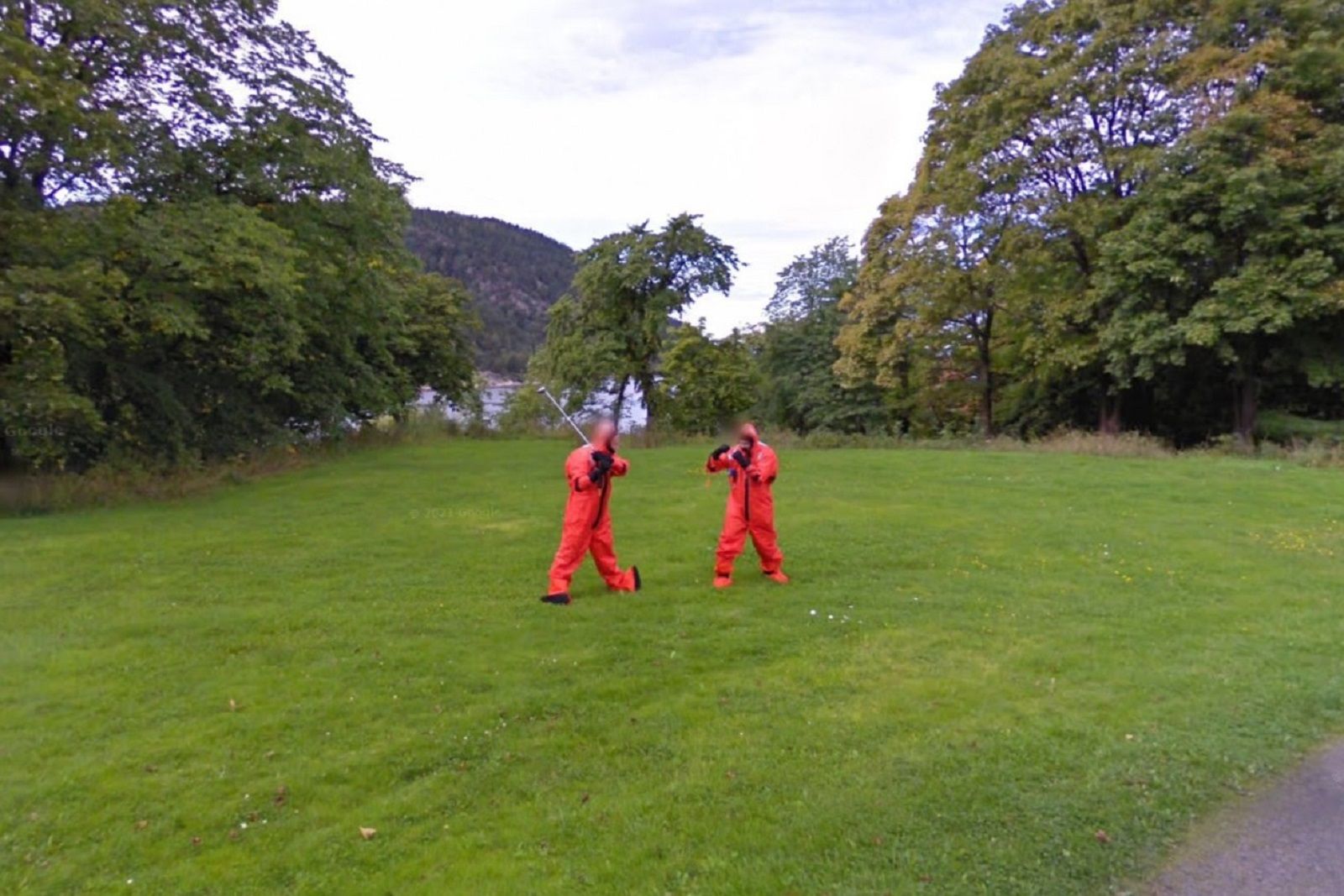 We're not sure what's going on here, but it looks like two chaps in some sort of full-body hazard suits either having a game of golf or being involved in mortal combat. It's not clear but we'd love to know what happened next.