Google is known for its innovative AI products, and it has once again stole the show with its latest announcement at the I/O conference. Among the developments revealed was the introduction of Google Search Generative Experience (SGE), a generative AI-powered enhancement for Google Search. While SGE is not yet available to the general public, Google has said it will be made available via Search Labs, a new program for accessing early Google experiments.
Read: Google Bard: How the ChatGPT alternative works
Search Labs, too, is not yet open to all. But, two weeks after announcing Search Labs at Google I/O, Google is announcing a waitlist for the program. In this guide, we talk about Google Search Labs, explore its potential impact on search, and provide step-by-step instructions on how to join the Search Labs waitlist.
What is Google Search Labs?
Google Search Labs is a new program that offers you the opportunity to access and test early experimental features of Google Search. It serves as a platform for users to provide feedback, allowing Google to refine and improve its AI search features before their official release. By participating in Search Labs, you can get hands-on experience with the latest advancements in AI search technology. It's a testing ground for new search features, including the highly anticipated Search Generative Experience (SGE).
What is Google Search Generative Experience (SGE)?
SGE aims to revolutionise the search experience by providing AI-generated summaries at the top of search results, enabling you to quickly see relevant information. Instead of relying solely on traditional search results, where you scroll through a list of blue links, you will receive paragraphs of information tailored to your search queries. It's like ChatGPT, but baked into Google Search. SGE has the potential to redefine the way we search for information.
By leveraging the power of AI-generated summaries, you'll get concise and relevant information at a glance. It's a huge shift in the search experience, and it may change user behavior and even the types of queries performed. SGE will still offer a selection links for further browsing, however, to enhance your overall search experience.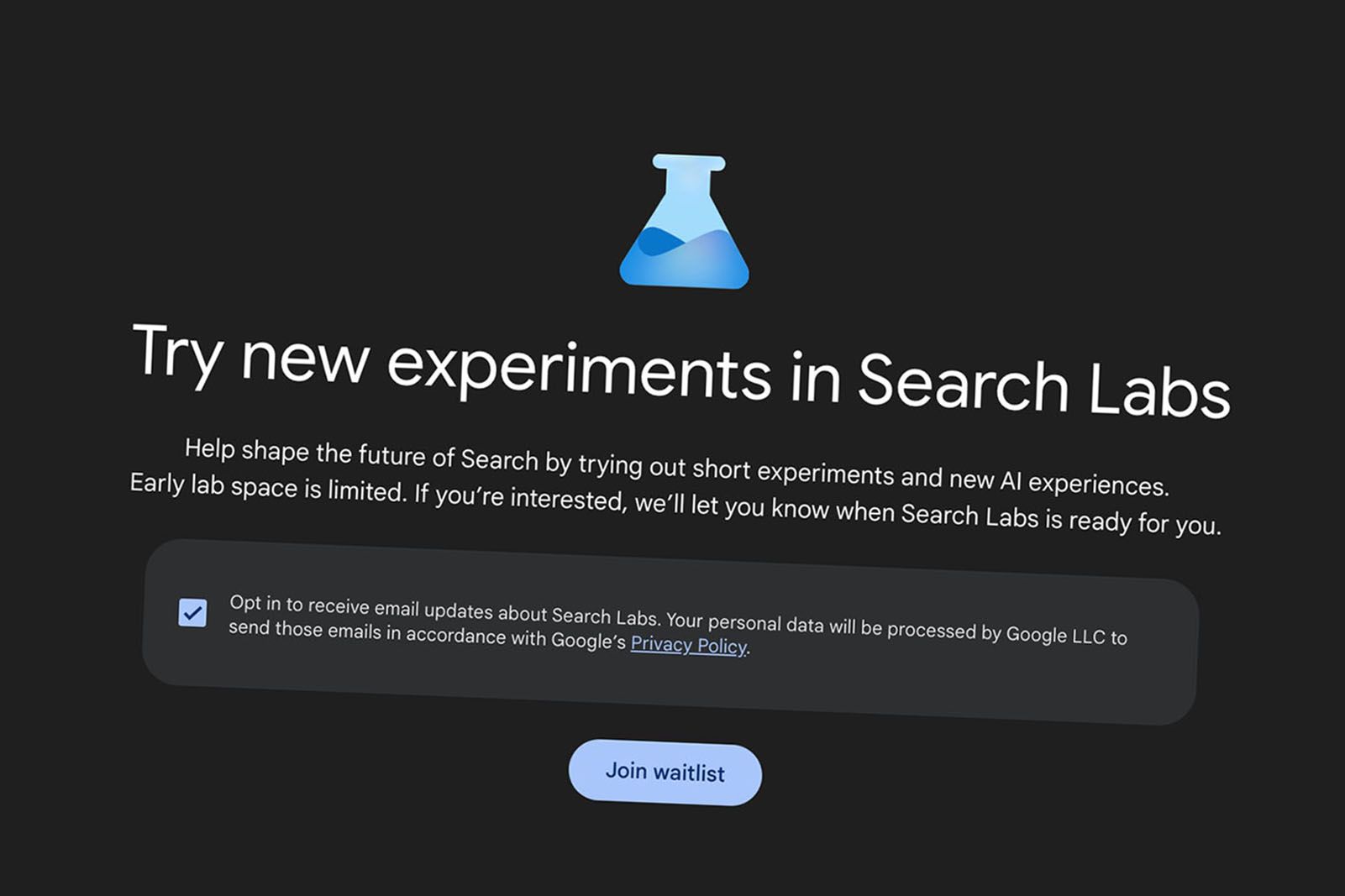 Google
How to join the Google Search Labs waitlist
With the upcoming availability of the SGE and other experimental features, participants in Search Labs can contribute to shaping the future of Google Search. If you want to be among the first to join Search Labs and try SGE, you can easily join the waitlist now.
Here's a step-by-step guide:
Go to the Search Labs homepage. There, you will find an option to sign up for the waitlist.
Sign in to your personal Google account. You will need to enter your Gmail credentials.
After signing in, you'll be directed to a page where you can join the Search Labs waitlist.
Simply click the "Join waitlist" button, and you're good.
Once join the waitlist, Google will notify you via email when you gain access to Search Labs.
Want to know more?
Check out Pocket-lint's I/O 2023 coverage for more about what Google is working on in the artificial intelligence space: