What you need to know
WhatsApp has announced a major overhaul to its status updater.
The changes allow you to share voice messages, react to a status, and see link previews.
New status updates are also indicated by a new profile ring, and a new audience selector gives you more control over privacy.
Since being acquired by Meta in 2014 (then Facebook), WhatsApp has slowly adopted some of the features already available on the social media platform's arsenal of apps. In 2017, the service added support for status updates in a bid to challenge Snapchat Stories. To make the feature more appealing to users, WhatsApp is now rolling out a major overhaul to its status updater, bringing it more in line with Instagram Stories.
The service announced in a blog post (opens in new tab) a total of five new features coming to WhatsApp status, including the ability to share voice messages. You can record a voice note of up to 30 seconds and post it as a status update.
As TechCrunch notes (opens in new tab), WhatsApp is expanding the availability of voice messages beyond chats to include status updates, following a surge in adoption of the feature last year, with over 7 billion voice messages sent in chats daily. The new capability was first spotted in a beta version of the app early last year.
However, because voice notes are more personal, you may not feel comfortable sharing them with everyone on your contact list. So, WhatsApp now allows you to limit the visibility of your status updates. You can make it visible to either your entire contact list, contacts with exceptions, or selected people only. The app will remember your last audience selection and apply it to your next status update automatically.
Prior to the private audience selector, you would have to manually change who could view your status in WhatsApp's settings menu. 
Another highly-requested feature is the ability to react to a status with an emoji, similar to what Instagram and Facebook already offer. To get started, simply swipe up on a status and tap on one of eight emojis, including 😍,😂,😮,😥,🙏,👏,🎉, and 💯.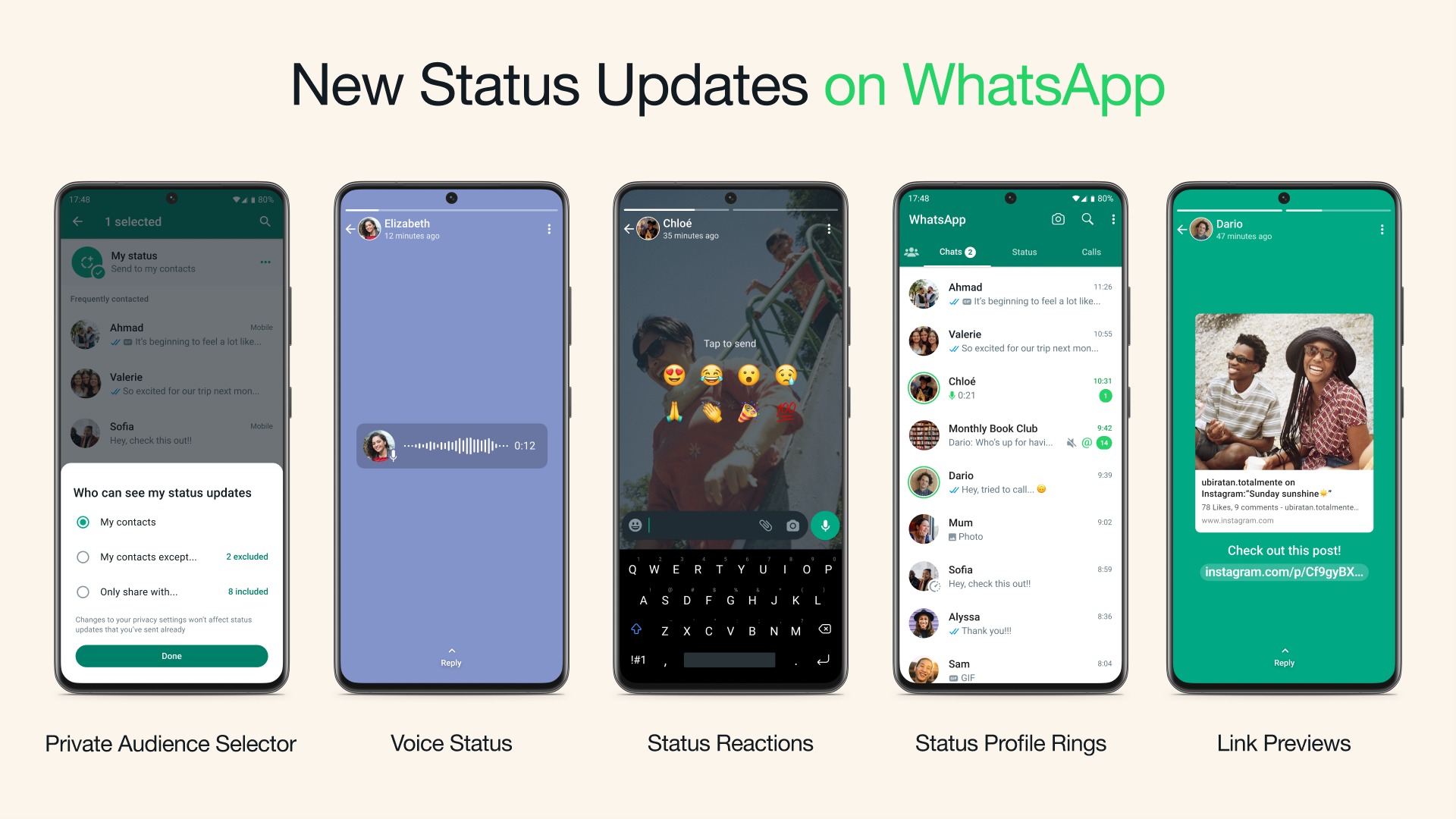 Your WhatsApp status will also become more noticeable when it goes live with a new profile ring. This new look will make your status appear more like Instagram's Stories. The ring will show up around your profile picture in the chat lists, group participant lists, and your contact info page.
Finally, any link you share as a status will have a richer look thanks to a new visual preview of its content. This is already possible with links sent as messages, and expanding it to your status on one of the best messaging apps is the logical next step.
WhatsApp is just beginning to roll out these new features, which are expected to be available to everyone in the next few weeks.